Renowned cuban publisher's work acknowledged
Submitted by: admin

09 / 02 / 2007
---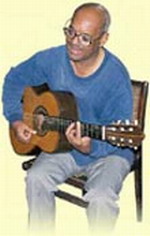 Radamés Giró , 1999 National Publisher Award in Cuba, has done an outstanding work on the Encyclopedic Dictionary on Cuban Music.
According to experts, the dictionary is an in-depth tour of Cuban music, from the times when pre-Columbian aborigines danced the "areíto" to rap music in the 1990s.Giró himself pointed out that the book is aimed at composers mainly, as it focuses on the individual that creates the work that will later reach the audience.
The dictionary also includes entries on foreign composers who have influenced Cuban musicians, including Brazil's Heitor Villa-Lobos (1887-1959), Russia's Igor Fyodorovich Stravinsky (1882-1971) and Venezuela's Teresa Carreño (1856-1917).

Giró is working on an anthology of little known articles on Cuban music published in magazines and other publications.

Some of the authors in the compilation are Alejo Carpentier, Max Henríquez Ureña and Eduardo Sánchez de Fuentes.
Source: DTCuba
---
Related News
---