Cubans speak out at nominations
Submitted by: admin

09 / 02 / 2007
---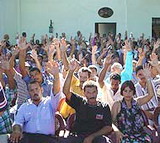 Packed into a garage space during an afternoon shower, about 200 neighbors came together in western Havana to decide who will run in the October 21 elections for municipal government.
There were three contenders and the coordinator at the table asked repeatedly through the loudspeaker if anyone had been left out.
"It"s always like this," says Mery Perez Molina, a 69 year-old retired school teacher.
"Every few years we all come here and decide who"s going to be our delegate," she says, explaining it"s comfortable for her because she lives upstairs. Mery"s never missed a vote and says this year seems about the same as all the others.
One by one, these Havana neighbors go up to the microphone and give their opinion of the candidate, sometimes overtly disagreeing.
They said one of the runners was great but she has two kids, works and is studying so maybe she"s not the best for the job.
Raydel Jimeno Liens, a 24 year-old university student, says that since he started voting his favorite candidate hasn"t always been nominated, but "if someone else wins they"re not necessarily bad and they might even do well in their job. I"ve voted for winning and losing candidates," he says.
The accounting major has been witnessing elections since his childhood days of the Pioneros, sort of the Cuban version of Scouting for primary school age children, and is very adamant to say "I have never seen any abnormalities." Talking to these people reminds of the Michael Moore film Sicko, with the looks of incredulity on socialized medicine users in Canada and Europe as he asks them how much they pay for doctor visits.
Yasley Velasco Gonzalez, 28 and learning how to operate the attractions at Havana"s newest amusement park, says this election is like all the rest, in which she has always voted.
"I hope it"s someone who deserves it," she says as the hands fly and about 100 votes are counted between the three candidates, one with double the other and the third with just one vote.
But strange looks fly when he is asked about his platform.
The folks from the municipal electoral commission explain he won t be commenting, as all pre-election propaganda is prohibited, and candidates are judged only by brief publicly posted biographies.
The board members say what"s important is one"s "attitude in society, mental capacity and good communication skills." But it's funny.
The lobbying, posters and slush funds are not missed.
Source: By Mike Fuller, Prensa Latina
---
Related News
---