Cuba, the adventure to enjoy in their depths
Submitted by: admin

08 / 31 / 2007
---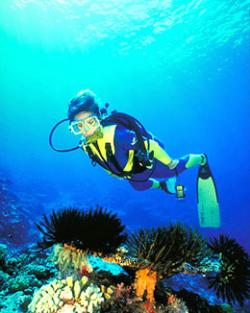 T
The temperature of the Cuban sea ranges from

26ºC

and

29ºC, the visible field extends to 15 and 35, 40 meters.

The abundance of the coral reefs, the hundreds small inlets and islands and the infrastructure created to this aim provide a high quality diving activity in Cuba and the number of the facilities that offer this service increases throughout the country and today they are more than 551 diving centers.
Diving in any of the seventy thousand square kilometers of the Cuban sea has an additional value, further than finding a great number of sea urchins, starfishes, sea anemones, octopus, barracudas and great many subaquatic species, it is about to discover galleons submerged centuries ago in the sea depths. It is said that there are more than thousands of them and they are an exclusive attraction because we can find animal and plant species living together in harmony.
The programs designed by the Ministry of Tourism of Cuba include night and daytime diving activities that include simple immersions and at the same time, the most complicated immersions to 40 meters in coral reefs, walls, flotsams and sunken ships, caverns and tunnels.
There are approximately 150 guides with the highest recognition and 37 International Diving Centers throughout the whole country, especially those located in Havana city such as Comodoro Hotel, Hemingway Marina and Tarara Marina where you can find an old wooden ship wrecked and maybe belongs to the time of corsairs and pirates. Likewise, there are other important places in the country like María La Gorda in Pinar del Río province; Colony in the Isle of Youth where the holder of the world record of immersion Deborah Andoyo used to practice. Besides, there are other sites in cays like Cayo Coco, Guillermo and Cayo Largo del Sur, Santa Lucia in Camaguey and Varadero, among others. Many of these centers were and they are still venue of prestigious international events on immersion, submarine photography and other related modalities.
Every place with favorable natural conditions offer different programs of diving, most of them with possibilities for beginners and the opportunity of acquiring certificates to different levels borne out at an international level.
Some places, of course, have distinctive characteristics and they are specially recommended. One of them is located in Playa Giron, to the southern part of Matanzas province; it is called "La Cueva de los Peces". This place, inside a cavern, is a kind of interior lagoon that leads onto the sea through a subterranean tunnel, there are tropical fishes, and divers can practice snorkeling. Those experienced divers can go deeper up to 80 meters deep. Diving can be also practiced in the calm waters of Bay of Pigs where a metallic craft 10 meters long lies 15 meters deep in the same place where the anti-Castro mercenary attack took place on April, 1961.
Since diving in sinking places has grown in popularity in the recent years, it was created the Cayo Piedras del Norte Marine Park unique of its kind in Cuba, located 8 miles from Varadero beach and covering an area of 2 square miles. There, a yacht, a motor launch, an An-24 airplane, a frigate and a tug were sunk. Those locations have different levels from 2 meters to 30 meters deep to be adjusted to the possibilities and experience of each diver.
Another relevant site is that located in Santa Lucia beach, to the northern part of Camaguey province. This is one of the limited places in the world, where we can see the guides feeding three-meter long sharks without protection.
Every diving center in Cuba has its own charms and infrastructure created for the highest level of equipment, consultancy, training, accommodation, safety, medical services etc. In all these places, the unique touch of Mother Nature with its matchless gifts prevails in every site of this magic archipelago of the Caribbean Sea.
---
Related News
---