Values at the center of attention of cuban educational system
Submitted by: admin

08 / 30 / 2007
---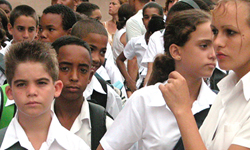 The need for Cuban youth to acquire and consolidate the necessary values for the future will among the priorities of the up-coming academic year, which begins on Monday.
This need was analyzed at the beginning of the methodological classes in Havana for the main leaders of the Jose Marti Pioneers Organization (OPJM), just days before the start of the new academic year.
This meetings main objective was to prepare the leaders to carry out their work with greater professionalism during the up-coming year.
«One of the main objectives of our organization is to imbue youth with values such as those of influencing by example, honesty, respect for our heroes, love for ones country and friendship, among others,» said Keyla Estevez, vice president of the OPJM.
To accomplish that objective, she added, it is important that those who lead the pioneers activities in each province know about the organizations main areas of work and that they properly direct and oversee them in each territory. «Thats why I think that these classes are very important, » Estevez said.
Source: By Norges Martinez Montero, Juventud Rebelde

---
Related News
---