First jobs for new cuban graduates
Submitted by: admin

08 / 26 / 2007
---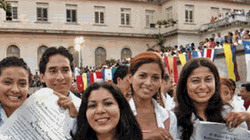 Every year, around this time, thousands of graduates from university and technical schools begin to take their first steps as workers, bringing them new challenges and new concerns.

The recent graduates anxieties are generally centered on three issues: fulfilling their social service, job training, and the treatment and guidance they will receive from administrations at the workplaces where they have been placed.

In Cuba, unlike other countries, the state guarantees all graduates either job placements or continuity of their studies. "Thats part of the countrys employment policy," says Training and Development Director from the Ministry of Labor and Social Security Mario Miranda Marquez.

"Later, we help these young people integrate into their new workplaces, aware that this is an important stage of their lives." Nevertheless, there are some complaints.

The official said that in spite of labor laws establishing guidelines for these issues, there are still cases of young people who miss workdays or stop going all together, or graduates without tutors or training plans.

"These problems require a great effort on the part of organizations and labor entities to look for solutions," said Miranda Marquez.

SOCIAL SERVICE: A DUTY, NOT AN OPTION

"Social service is the fundamental duty of those who graduate from university and technical schools who must put their knowledge at the service of the society that contributed to their education, and to do so in accordance with the countrys development plans and priorities," said Miranda Marquez.

He pointed out that graduates are required to carry out their social service at the workplace that is assigned to them by the Ministry of Labor and Social Security. However, he noted that sometimes, parents or other relatives request that they be sent to work in specific job centers and not where they are most needed.

Addressing this issue, Miranda said that assignment changes are only made in exceptional cases, and only when requested by the organization that is responsible for the workplace where the graduate has been assigned. He added that families play an important role in encouraging graduates to complete their social service as part of their professional lives and as an essential step in their education as workers and in the fulfillment of their duty to society.

"Its important to remember that it is fair to demand the fulfillment of social duty. Those who refuse to fulfill this duty, without a duly justified reason, will have their diplomas disqualified by a period established by law," said the official.

While fulfilling their social service graduates have all the rights and duties corresponding to regular employees, including vacations, protective gear, and incentives according to their income and work discipline.
Source: By Lourdes Pérez Navarro, Granma
---
Related News
---