Summer book fair in Havana: reading in the Prado
Submitted by: admin

08 / 26 / 2007
---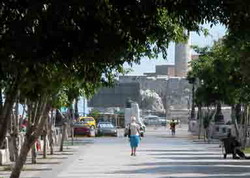 The festivity began early in the evening. On Friday, Old Havanas main street" el Prado" closed its veins off to traffic and opened its heart to a large-scale cultural celebration attended by people of all ages. The project «Reading in Prado,» sponsored by the Young Communist League (UJC) and the Cuban Book Institute, displayed dozens of kiosks, literary cafes and all kinds of public clubs.
From the «La India» fountain to the Malecon seafront promenade, large crowds moved from one packed kiosk to the next. The concept of the celebration "and there lies its value" was to connect the spirit of culture with its most grateful consumers.
Book stands, and chairs for the less patient and tired, attracted people, who after buying one or more volumes, and after easing their thirst thanks to an efficient food court network, felt ready to attend presentations on novel, essays and magazines, or enjoy poem readings by distinguished authors.
No corner of the long street was wasted. The wide storefront portals housed shelves full of books that the Cuban public had been missing since the last annual book fair in February. There were also food stands named after important literary works, with the central city street hosting all of this - an attractive meeting between authors and readers.
Source: Randol Peresalas, Juventud Rebelde
---
Related News
---