Zapata swamp, the closest contact with Mother Nature
Submitted by: admin

08 / 24 / 2007
---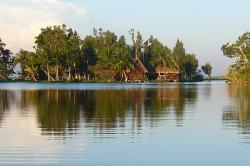 The nature tourism in Cuba is one of the most demanded options for those who visit the country due to its unique natural gifts. There are several natural places in this archipelago however, the Zapata swamp is the greatest and best-preserved wetland of the Caribbean basin with an area of half million of hectares for only nine thousand inhabitants, it is a matchless location.
Located at the south coast, it covers half of the Matanzas province and it is considered the most extensive and less populated municipality of the Republic of Cuba. There we can find the historical Bay of Pigs where took place the confrontation between the newly formed revolutionary government commanded by Fidel Castro and the invading Yankee troops.
Due to the diversity of the ecosystems coexisting as well as their demanding preservation, at the beginning of the present century UNESCO designated as Reserve of Biosphere and Ramsar Site, category granted to the world important wetlands.
The origins of this wetland dates from millions of years ago according to the evidence of important fossil remains preserved in the Visitors Center of this universal biosphere reserve. After significant geo- technological changes that gave origin to the Cuban archipelago, Zapata swamp was formed by two well-defined areas. One abrasive higher area classified as eastern swamp where 18 small populations were settled and the other one is western swamp, this is a sunken and cumulative area in a virgin, inaccessible and inhospitable region.
In the last zone of the swamp, there are several endemic species of its fauna. Among them, we can find the crocodile known as Rombifer and the Jutia Enana. Eighty percent of the exceptional birds of Cuba can be found there such as Gallinuela de Santo Tomás, La Ferminia and Cabrerito de Zapata as well as the Tocororo the national bird of Cuba in danger of extinction. For this reason, birds observation can be an ideal reason to choose this tourist destination.
The National System of Protected Areas of Cuba has conferred to this biosphere reserve, denominations like "National Park", "Distinguished Natural Element", and to the speleo lacustrine system of Zapata constituted by 150 wells and hollows where we can find the deepest hollow of the country with 80 meters deep and three Fauna sanctuaries called Arroyones, Bermeja and the Sábalos.
Within the most common plant formations of this vast area there are the mangrove swamp, the grass swamp, the semideciduous forest of Carsic soil covered by turba and the swamp forest filled with water very necessary for its growth.
This amazing Cuban territory commercializes under the name of Monte-Mar Natural Park. Its main hotel attractions are Playa Larga, Playa Giron and Guama located in the Laguna del Tesoro, the greatest natural fresh water deposit of the country that evokes a typical aboriginal small village of the area.
Zapata swamp is a private spot 150 km from the Cuban capital where you can enjoy the closest contact with Mother Nature.
---
Related News
---