Liuba María Hevia's disc 'Secretos cantados'
Submitted by: admin

08 / 18 / 2007
---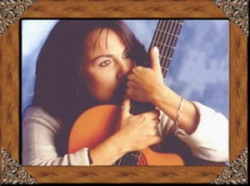 Cuban singer sing-writer Liuba María Hevia (b. Havana, Dec. 14, 1964) has been delighting the audiences for over 20 years since the early days of the Armys Artistic Ensemble.
Aged 8, she first played the guitar and thereafter like Sara González, Carlos Varela and Silvio Rodríguez carry on the singer song-writer career composing and singing habanera, son, guajira, rock, tango and vallenato.
Travesía Mágica (2001) is Hevias first disc with songs for children now followed by Secretos cantados (Bis Music), a sort of tour de force because it rejoices those themes we all remember from childhood.
- Would you identify the similarities and differences between Travesía mágica and Secretos cantados?
-Travesía is based on verses by Ada Elba Pérez, while Secretos... compiles known Ibero-American childrens songs.
- Which were the technical difficulties faced with voice recording?
- Singing our own songs is always easier. The ones in the disc required more complex production process, time and effort. I even had to sing in Portuguese and English languages.
Source: By Jorge Smith, CubaSi
---
Related News
---