A day with Ancestors
Submitted by: admin

08 / 16 / 2007
---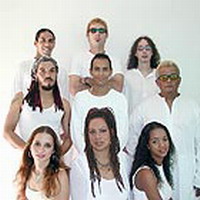 It is impossible to write about Cuban rock without mentioning the rich variety and conceptual structure of the pioneer group Síntesis, which continues to defy categorization by the music industry.

Since the release of the album Ancestros (Ancestors), Sintesis has followed a spiral path of uniquely interpreting Afro-Cuban chants of Yoruba origin merged with elements taken from jazz, rock and electronica. Habana a flor de piel was nominated for Best Tropical Music Album at the Latin Grammy awards.

For Síntesis, directed by bassist Carlos Alfonso and lead singer Ele Valdes, it is not a matter of merely using contemporary sounds or of letting themselves be influenced by popularity or by the market, but of strengthening a mechanism in which everything fits properly like pieces of a jigsaw puzzle. Its sonority gives a genuine value to the concept of ajiaco (a spicy dish with several ingredients) by Cuban writer Fernando Ortiz to define the process that led to the formation of Cuban culture.

The Arte en La Rampa venue, in downtown Havana, was packed with hundreds of people, two hours before the time scheduled for the concert. It was a long awaited event nobody wanted to miss. Like a song by Adalberto Alvarez says "the house is jam-packed, theres no room for a single soul, and everybody wonders what Elegguá will say..."

But it wasnt precisely Elegguá (one of the deities of Yoruba religion) who came to prepare the ground for the show. The first notes were brought by another of the guides and protector, the Oricha Saint Lazarus.

From then on, for a little more than an hour, the band played some of the best from its repertoire for an audience that gradually turned the facility into a dance floor. A lot of young people sang and danced to its contagious rhythm, shaking their hips and legs in the style of Bob Marley or as if they themselves were a version of Ele and Carlos.

The climax came with Si yo Fuera and Amalia (En los límites del barrio), a photograph of a Havana scene that, due to its realism and urban poetics, could have been taken by the camera of celebrated US photographer Robert Mapplethorpe (1946-1989), the same artist that immortalized underground New York punk singer and poetess Patti Smith on the cover of her record Horses. It was one of the concerts best moments, backed by a superb Esteban Puebla on keyboards and the tessitura of Eme Valdés' voice.

Like her brother Equis (X), this young and sensuous artist seemed to have fallen from her mothers womb directly to the universe of musical creation. Her voice manages to perform tones as intimate as the sound of a rain drop touching glass. In her solo career, she goes from Bristol to trip hop sounds, found in groups such as Massive Attack, (firm anti-war activists), Portishead, Morcheeba, and Tricky, with the same smoothness a snake charmer subjugates a cobra. It is something she demonstrated during her amazing concert five months ago at Havanas Museum of Fine Arts.

Like Equis, she seems to be destined to provide Cuban music with a sense of future.
Source: Michel Hernández, Granma
---
Related News
---