Radio Miami head Max Lesnik honored in Havana
Submitted by: admin

08 / 16 / 2007
---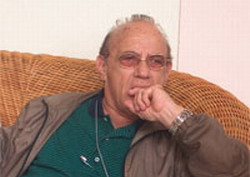 «We are today honoring a person who is characterized by his continual forward movement, for his always being on the front line, where he remains, despite harassment by the enemies of the Cuban Revolution within the United States itself, » said Ricardo Alarcon de Quesada, president of the National Assembly, referring to Cuban journalist Max Lesnik, who was awarded with the Felix Elmuza medal. The award was granted by the Council of State under the recommendation of the Union of Cuban Journalists (UPEC by its acronym in Spanish)

During the ceremony, Alarcon said the honor settled a debt with «one of the most brilliant Cuban journalists, a person who is one of the most genuine patriots, who has known how to overcome risks - not the theoretical ones, but bombs threats made against him and his office for several years. Yet, despite this, they have never been able to silence him. »

The medal was pinned on Lesnik by UPEC President Tubal Paez just minutes after Juan Marrero, speaking on behalf of the journalist guild, explained that Lesnik was receiving the honor a few hours before the 81st birthday of President Fidel Castro, with whom he was a member of the Orthodox Party and a follower of its leader, Eduardo Chibas.

Lesnik was born in San Antonio de las Vueltas, Camajuani, in the former province of Las Villas, in 1930. Prior to the 1950 revolution, he fought the corruption, political demagogy, vice, crimes and oppression of the Batista dictatorship. In 1961, he moved to Miami and has never ceased defending the Cuban cause. He has been the director of Radio Miami for 30 years.

«Maxs life has been not only one of 'dignity against money, as Eduardo Chibas always proclaimed, but also that of 'dignity in the face of terror, lies and C-4 explosives on the streets of Miami, » Alarcon said.

We are also paying tribute, Alarcon said, to his wife Miriam Alvarez and her two daughters, Vivian and Mirita. They too have supported the rigors, threats and risks that their husband and father is taking in Miami, where struggling on the front line in the fight against terrorism, for the Cuban Five and the struggle to spread the truth about Cuba can cost one their life.

Visibly moved, Lesnik thanked UPEC and the Council of State for the honor, and promised to continue fighting as a journalist and as a Cuban heading Radio Miami until the US desists with its blockade against Cuba.
Source: By Luis Hernández Serrano, Juventud Rebelde

---
Related News
---