Cuban Chess Master training with hungarian Peter Leko!
Submitted by: admin

08 / 16 / 2007
---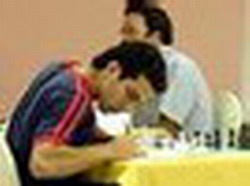 The news were so good that they shook me: Cuban Grand Master (GM) Leinier Dominguez is in Hungary as part of a team of experts assisting GM Meter Lento, one of the «monsters» of world chess, in his training for the world championship in Mexico next month.
This is an incredible opportunity for Leinier and recognition of his progress as a chess player.
Leko is well known, but lets remember some moments of his career. Lets start for something many people dont know: Leko is not Hungarian by birth, he was born in the locality of Subotica, Serbia, on September 8, 1977.
Currently, Leko is placed seventh in the world ranking with an ELO of 2,751 units. However; he has moved into fourth position six times, and in July, 2005 he reached the highest rating of his life: an ELO of 2,.763.
Among his more important accomplishments there stands out his triumph in the 2002Candidates Tournament, which led him to playing the unofficial world championship match a year later against Russias Vladimir Kramnik, a match that ended in a tie.
Last season, he also shared the top with Kramnik in the Linares Tournament, in Spain. Then he descended somewhat despite winning the Wijk ann Zee tournament in the Netherlands in 2005..
He began this year by winning the first ACP Rapid World Cup in Odessa, Ukraine in January. He finished eighth in the Morelia-Linares super tournament, while in Dortmund, Germany, he shared the positions from second to fourth with Russian champion, Evgeny Alexeev and Indias Viswanathan Anand.
In Dortmund, Kramnik won for the second time straight, and the world champion defeated Leko again a little later in a rapid playing match of held in Miskolc, Hungary.
At the chessboard, generally speaking, Leko is a lot like Leinier: he has great theoretical preparation and doesnt take too many risks, which sometimes leads him to tie less talented rivals, although he seldom loses. Lets see how he does at the Mexican world cup, where he will be playing against seven other distinguished players of the disciplined game.
There will be Kramnik and Anand, in addition to Armenian Levon Aronian, Israeli Boris Gelfand and three other Russians: Peter Svidler, Alexander Morozevich and Alexander Grischuk.
Predictions? I have to pass. I just want Leko to win ... and Leinier with him
Source: By Luis López Viera, Juventud Rebelde
---
Related News
---