Voters record at cuban polls
Submitted by: admin

08 / 14 / 2007
---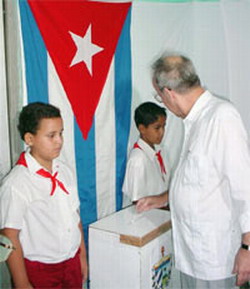 Voters' participation in the Cuban elections has always surpassed 95 percent of those registered as of 1976, as an expression of the democratic nature of the system.

According to statistics, prior to another electoral process in the island, people's participation has been increasing since the promulgation of the Socialist Constitution and the Electoral Law that year.

About 5,655,877 people voted in 1976 to reach 95.2 percent of the existing electoral roll and surpass another previous figure.

But that figure was continuously increasing in the following voting when counting 96.9 percent in 1979, 97.2 in 1981, until exceeding 98 percent in 1984, 1989 and 2000, and maintains over 97 percent in the remaining electoral process.

The extensive presence of people in each of those polls, something impossible in the pre-revolutionary Cuba and several countries of the world, has to do with particularities of the national electoral system.

These and other reasons stress the differences with systems where the purchase of candidates and votes prevail, as well as indifference of the people when voting.
Source: By Javier Rodriguez, CubaSi
---
Related News
---