Tendencia, defending our roots
Submitted by: admin

08 / 13 / 2007
---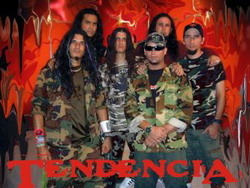 A display of Cuban identity and roots identified the presentations of the rock band Tendencia, during their tour by several cities of Spain, said its director Ernesto Mederos (Kiko).
He pointed out that to share with rock bands which are well known for Cubans was really interesting, besides they interacted with the audience in lectures about Ernesto Che Guevara, the Cuban election process and other topics about the reality of our country.
The most important concerts took place at the festivals Derrame Rock and Rock & Motos, where the majority of the participants are left-wing rock bands. They were also invited to auditoriums in Santander, Barcelona, Sabadell, Pola de Siero, etc; most of the times playing for more the 5 000 people.
During the tour, Tendencia made video clips, recorded some themes and shared the stage with inmportant rock bands such as Fe de Ratas, Barón Rojo, Hamlet, Reincidente and Gatillazo, besides they signed some contrats with Santo Grial Producciones, one of the most important production companies in Spain that is in charge of the distribution of the CD Rebelde.
"We are really satisfied with the way we were welcomed in those places, I remember specially a concert we made on July 26 in Barcelona, invited by the Communist Party of that city, and we turned that into a party of Cuban identity, where we played La Guantanamera and many other songs written by Cuban authors.
"That mixture of rock with Afrocuban roots caused great impact in the people, they even recognized us in every performance and asked for songs like Aché pa te, Rebelde and specially Al machete", stated Kiko.
Currently, the group is preparing their third CD, that will have a special release in important cities of Spain. Furthermore, the band will make a tour by the island next year, together with the Spanish group Fe de Ratas and the Venezuelan rock star Paul Gillman.
Source: By Dainarys Campos Montesino, Guerrillero
---
Related News
---