Mexican authorities denounced illegal trafficking of undocumented cubans
Submitted by: admin

08 / 08 / 2007
---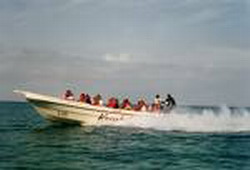 The Prosecutor's Office in the Mexican state of Quintana Roo denounced on Tuesday that the city of Merida is being used as the main center of illegal trafficking operations of undocumented Cuban immigrants.
"This center is financed by Cubans that live in the United States", said prosecutor Bello Melchor during a press conference in Quintana Roo.
He explained that each Cuban pays between 10 000 and 12 000 dollars which includes the departure on speed boats from Cuba's western coasts to Quintana Roo.
The local official pointed out that that once reaching the peninsula of Quintana Roo and Yucatan, the Cubans are transferred mainly by land towards the US border.
In reference to 6 assassinations registered recently in Cancun, he said that they are allegedly tied to the groups of illegal traffickers.
Meanwhile, the federal prosecutor's office informed on Tuesday that they handed three people over to a judge that attempted to illegally smuggle a group of 34 Cubans in the country.
The three people and 34 Cubans were intercepted on August 2nd in the Caribbean Sea off the coasts of Quintana Roo in a luxury vessel coming from Cuba.
This situation is provoked by the Cuban Adjustment Act and valid since 1966 which encourages the illegal exodus from the island.
Source: Radio Habana Cuba
---
Related News
---