Nomination of candidates to take place in September
Submitted by: admin

08 / 05 / 2007
---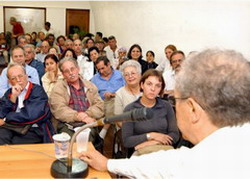 Training seminars for the members of the 15,236 electoral commissions that will be set up in all electoral jurisdictions for the upcoming elections concluded Thursday with positive outcomes.
On September 1, the nomination of candidates must start in Cuba in the municipal assemblies of the National Assembly, one of the most important moments of the current process for the general elections.
Tomas Amaran Diaz, secretary of the National Electoral Commission (NEC), said on Thursday to the Juventud Rebelde newspaper that according to the schedule «the assemblies for the nomination of candidates will be held from September 1-26, and to do that we have planned the creation of 50,635 sites for nominations across the country, 9,029 more than in the elections of 2005. »
The creation of these areas will give people more chances to nominate more than one or two people who they consider have the merits to represent them. Therefore, the pool of candidates for the selection of delegates to their area Municipal Assemblies will be larger.
As part of the preparation for the general elections, there will be training seminars for all of the members of the electoral commissions of each constituency. These are key in the convening, organization and holding of 50,635 nominations assemblies to take place in September and throughout the process in general.
«The more than 76,000 citizens, who are members of the 15,236 electoral commissions of constituency, received complete information about the Electoral Act, the 248 Decree-Act of the System of Identification and Registration of Voters, as well as all the aspects related to the registration of voters, the nomination of candidates to become delegates to municipal assemblies, and the ethical principles and regulations ruling the Cuban election process. »
The National Electoral Commission described the seminars as positive, said Amaran, since it was fulfilled in a short time with the objective of «training housewives, workers, workmen, intellectuals, young people, retirees, members of the army, and citizens from all walks of life, age and sex. Their voluntary participation, support and sense of responsibility make the organization of these elections possible. »
The conditions are created, said Amaran, so the organization of this process flow in a satisfactory way, as it has done until now, after the call made by the Council of State last July 9.
Gisela Bell Heredia, a member of the NEC, said that the commission works to develop the complementary rules for the current process of general elections, whose first stage concludes on October 21 with the election of the delegates to the municipal assemblies.
Source: By Agnerys Rodriguez Gavilán, Juventud Rebelde
---
Related News
---