Todays Dinosaurs in the East of Cuba
Submitted by: admin

08 / 02 / 2007
---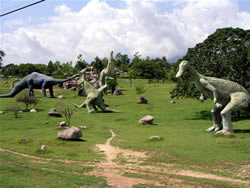 This is a stone Jurassic park sculpted by Cuban artist Dagoberto Ramos from 1982 to 1992.

There 278 immortal specimen at a natural size, distributed in an area of 75 hectares.

When visitors observe them, they increase their knowledge about prehistory and those giant reptiles that lived on the earth at that time.
Through a journey to this place we can find a Pteranodon with his stretched wings resting over a rock under the hot sun of this tropical region, a Mammoth walking in a surface with scattered trees and hills, a Diplodocus with his gentle and firm footsteps in his way to the river and a Tyrannosaurus Rex from an elevation watching the visitors.
Almost every geological age has its representation there showing the different periods of the earthly life until the Cenozoic age when man came to life.
The sculptures were made with the Ferro cement technique.
Due to the realism of the bodies and the facial expressions, paleontologists from several countries have pointed out the extraordinary work made by the Cuban sculptor.
As complement of this interesting place there is a natural sciences museum where visitors can learn about other ways of living.
The amazing realism achieved in the hosts of this park is harmoniously combined with the exceptional gifts offered by nature to this environment with the beautiful spots of Gran Piedra and Sierra Maestra at the back.
---
Related News
---