Habana Libre Tryp Hotel, a symbol of Havana
Submitted by: admin

08 / 01 / 2007
---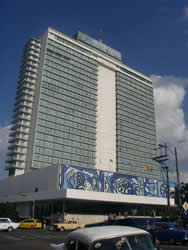 The Habana Libre Tryp Hotel is one of the most representative hotels of the Cuban capital. There are many features like its privileged location in the populous and central corner of 23 and L streets that have contributed to this. In one side of La Rampa, next to Coppelia ice-cream parlor and to the University of Havana and Malecon, just some minutes to the historical center, in short, in view of almost the whole city.
At the beginning it was called Habana Hilton hotel, however, with the triumph of the Revolution it was named Habana Libre hotel and with the opening of the revolutionary state to the foreign investments, today it is called Habana Libre Tryp hotel managed by the Spanish Sol-Melia hotel chain.
Fidel Castro and Che Guevara held relevant meetings there.
The view from this hotel is enhanced while we ascend the 25 floors of the building, to the north we can enjoy the sea, the bay, the Morro lighthouse and even the Cristo de la Habana and to the south, all the city.
The front façade of the ground floor is decorated with large murals inspired in works of Cuban plastic artist Amelia Pelaez.
There is a great shopping gallery downstairs, the Habano house is located in then lobby as well as a craft store, jewelry, photo services among others. There is also a beauty parlor, creamery, a branch of the International Financial Bank, travel agencies, taxis etc.
The infrastructure of this hotel stands out for the spacious halls equipped with the state of the art techniques for celebrating congress and conventions. Likewise, its four thematic restaurants such as El Polinesio restaurant of the greatest prestige and relevance and its bars like Las Cañitas bar or the popular Turquino Cabaret in the last floor of the hotel that daily offers a unique show under the light of the moon and the brilliance of the stars are the best options for its customers.
The Habana Libre Tryp Hotel puts all its services at visitors disposal in the most popular corner of Havana with the comfort of the Sol Melia hotel chain.
---
Related News
---