The National Hurricane Center forecast that a tropical depression may form in Atlantic
Submitted by: admin

08 / 01 / 2007
---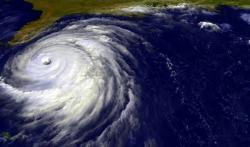 In an 11:30 a.m. EDT outlook, the NHC said the system, associated with a tropical wave, has become a little better organized. It said an Air Force reconnaissance aircraft was scheduled to investigate the area this afternoon.
"Environmental conditions do not appear especially favorable for development," the NHC said, but it added that "there is still potential for this system to become a tropical depression during the next day or two" as it moves westward at close to 15 to 20 miles per hour.
Separately, the NHC said another large area of cloudiness and showers developed over the northeastern Gulf of Mexico in association with an old frontal zone. Some slow development of this system is possible during the next day or two as it remains nearly stationary.
The NHC will name the next tropical storm Dean.
ATLANTIC LOW-PRESSURE SYSTEM
The low-pressure system associated with the tropical wave is centered a couple hundred miles east of the Windward Islands, which include Barbados, Martinique, St. Lucia, St. Vincent and the Grenadines, Grenada, and Trinidad and Tobago.
All weather models predict the system will cross the Windward Islands and move into the Caribbean south of Haiti and Cuba over the next week or so.
Four of the models show the storm heading toward Belize, Honduras and Nicaragua, while another model shows the storm crossing the Yucatan Peninsula in Mexico, entering the Gulf of Mexico, and heading toward the Texas-Mexico border.
The energy market watches for tropical storms because they can disrupt U.S. oil and natural gas production and refining if they enter the Gulf of Mexico.
The NHC noted that, even if a storm does not develop, the system would likely bring a few squalls to the Windward Islands over the next day or so.
---
Related News
---