Cuban Hip Hop Symposium
Submitted by: admin

07 / 30 / 2007
---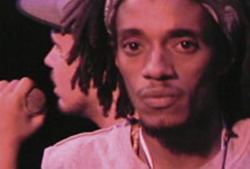 "In this third symposium on Cuban Hip Hop we hope to achieve greater participation of rappers in the workshops and to encourage cultural institutions to take greater interest in this music with a cause," said Roberto Rosell, member of the La Fabri_k (The Factory) community project, the main organizer of the event.
Rosell, who is also a member of the rap band Hermanazos, added, "It continues to be difficult to successfully carry out this event, although it should be acknowledged that the new leadership of the Cuban Rap Agency has helped us a lot."
"There is a lot of energy among the true rappers, who have continuously demonstrated the value of our national Hip Hop, despite other musical phenomena that, to a certain degree, distort the essence of our movement," noted Rosell.
"This time we are trying to look inside, to organize ourselves, to be better human beings and creators, to improve the lyrics to show our most revolutionary profile," said Rosell.
The symposium, which took place from Wednesday to Saturday at the Cultural Center in the Havana municipality of Plaza, presents an opportunity critically reflect on the Cuban Hip Hop Movement. This years event included conferences, workshops and concerts with the participation of musicians, poets, anthropologists, psychologists, jurists and other exponents of this art in Cuba.
The opening of the five-day gathering included a donation of musical instruments from members of the Pastors for Peace Friendshipment Caravan and an exposition by Cuban painter Alexis Esquivel.
"I joined the symposium because I am interested in linking art with other cultural manifestations that serve to raise the voice of social justice to promote understanding and fraternity among people," Esquivel told Granma.
"Since my youth I have always been interested in Hip Hop culture. I see it as a prism of rebelliousness of the poor classes, mainly Hispanic and African-American. In Cuba you can see that Hip Hop has found an echo among young people in the less favored neighborhoods," he added.
The annual symposium is sponsored by the National Council of Cultural Centers, the Cuban Rap Agency, and the Juan Marinello Cuban Culture Research and Development Center, among other institutions.
Source: Michel Hernández, Granma
---
Related News
---