US rejects dialogue with Raul Castro
Submitted by: admin

07 / 27 / 2007
---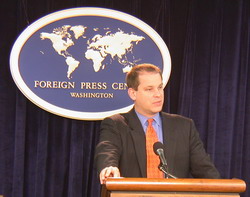 "The only real dialogue he needs is with the Cuban people," State Department spokesman Sean McCormack said, after Raul Castro called for talkes to end more than a half century of enmity between the neighboring nations.

"If the new US administration once and for all can set aside its overbearing nature and talk in a civilized fashion, that will be most welcome," Raul Castro, 76, told thousands of Cubans at a rally in Camaguey marking Cuba's national day, missed for the first time by his convalescing brother Fidel Castro, 80.

McCormack shot back: "I think that if the Cuban pople were able to express the opinion on the question of whether or not they would like to freely choose their leaders, the answer would probably be yes.

"Unfortunately, that is not the dialogue that is taking place in Cuba at the moment. So we look forward to the day when the Cuban people do have the opportunity to have that free and open dialogue. The dialogue needs to happen in Cuba," McCormack added.

The United States and Cuba do not have full diplomatic relations. The United States has had a trade embargo clamped on Havava for 45 years.
Source: Caribbean Net News
---
Related News
---