The heart of the Mediterranean Camagüey
Submitted by: admin

07 / 27 / 2007
---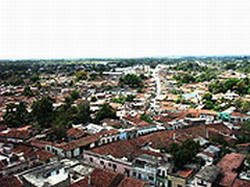 Its the medieval architecture style historical site located in the center of the city measuring now 332 hectares, to where the original capital Villa de Santa María del Puerto del Príncipe was definitely moved in 1528 after three successful attempts of escaping the ravages of pirates beginning in the year 1514, when it was erected on the northern coast of Nuevitas port.

Being so far the last location found close to the banks of rivers Tínima and Hatibonico, two of the Spaniards' earliest settlements in America, Camaguey, is considered to be here the city of legends, a labyrinth of winding streets, originally laid out in an attempt to confuse marauding pirates.

A glance from the air captures immediately an impressive far and wide panorama of public buildings as much as private houses displaying large red tiled roofs, multiple open plazas, parks, as well as patios and churches sharing space and praises with the modern part always jammed with people coming in and out of an endless line of restaurants, cafeterias, shops and cultural centers, not to speak of the management institution facilities.

The City Historians Office has put into practice a practical restoration and maintenance program of which all social wealth turned into historical heritage will be benefited.

Its particularly exciting to venture into the city, mingle with local people, overhear native tales and phrasing, admire different architecture styles and experience what times footsteps really means.

What can be suggested to visitors? Offer is wide and varied given the number of places of interest the city provides you with.

Some of which are plazas San Juan de Dios and Carmen, parks Agramonte - former Plaza de Armas-, central estate/park Casino Campestre, back alley Funda del catre, home/museum Nicolás Guillén - Cubas National Poet -, Principal Theater and Don Cayetano Inn.

The abovementioned are only few of the many attractive tourist destinations in Camagüey; a living Mediterranean city standing in the vast central landscape of the island since over five centuries ago.
Source: Cubarte
---
Related News
---