Gem of history at Santiago de Cuba's Gran Piedra
Submitted by: admin

07 / 27 / 2007
---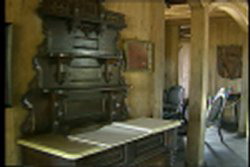 The La Isabelica Museum located on top of the Gran Piedra Mountain south of Santiago de Cuba preserves traces of an important architecture adapted to the abrupt topography as well as the sad memory of slavery in Cuba.
Declared part of the Cultural Heritage of Humanity by UNICEF, La Isabelica, prototype of coffee haciendas of the time, still maintains the original structure built at the end of the 18th Century.
The museum is located just 28 kms. east of the city of Santiago de Cuba in a biosphere reserve with the breeding grounds of 80 species of birds both resident and migrants. It is known worldwide as the main corridor of the fish eagle on the American continent.
From its large windows and doorways, characteristic of the period, you can see the third biggest solid rock on Earth; experts estimate its weight at 70,000 tons.
The work to preserve La Isabelica is carried out by the Curator's Office of the City of Santiago.
The effort is part of the actions that link Cuba with the Coffee Route project promoted by UNICEF in countries where cultivation of the crop was significant on a global scale.
Indelible memories of slavery, the early development of the coffee industry, furniture of the period and other objects, are among the testimony of the French emigration and its insertion into the socioeconomic scene in eastern Cuba.
The site is also the inspiration of a much larger program that foresees the building of architectural encampments and opening trails linking 170 coffee fields built under French hacienda owners living in the Sierra Maestra Mountains after the Haitian Revolution.
La Isabelica is the most eloquent example of the restoration projects in the mountainous areas in the provinces of Santiago de Cuba and Guantanamo, which also contain an important historical significance of Cuba's socio-cultural development.
The restoration work seeks to perpetuate these sites not only as land used to promote coffee production in Cuba, which for a time in the early 18th Century was the world's largest exporter, but also as a witness to the fusion that took place after the conquest of the Caribbean island and the continent.
From there come the programs of the Slave Route, the Sugar Route, and the Coffee Route. The La Isabelica museum has a great importance on a global scale because it marks a milestone in American history and is part of the cultural heritage of the Cuban nation.
Source: Radio Habana Cuba
---
Related News
---