Greco wrestling and pentathlon give Cuba more
Submitted by: admin

07 / 25 / 2007
---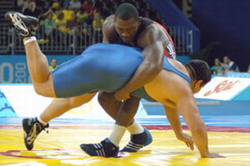 Like the breathtaking ending of a good sports film, the first phase of wrestling competitions concluded last night. Two super heavyweights who had been world champions clashed this time: Americas Dremiel Byers (Moscu 2002) and Cuban Mijain Lopez (Budapest 2005). After the announcer noticed this information, absolute silence reigned in the Riocentro facility.

Do we have to say that it was a difficult match? Nothing happened during the first minute of the first time period; they had a hard time trying to subdue each other. Both had to go to the par terre position after the coin toss, which favoured the Cuban athlete. He was not able to score (point for Byers). The positions were reversed, and the American was not able to score either (point for Lopez, who won the first period for being the last one to score).

MIJAIN LOPEZ SHOWED OFF HIS TALENT

In the second period, the Cuban achieved a technical point with a takedown and a step backwards, plus another point for not letting his opponent score. That was it, a victory in just two time periods.

"I had to show a little of my talent. He has wrestled me before. He knows all my strategies. I couldnt do much in the ground phase, so I had to do my best in the standing up phase. Im training to be the best, I want the three gold medals in my weight class in Guadalajara 2011," said Perez.

And what about this years World Championship?

m working hard for that too.

You sound conservative today in comparison to that day when you told me you were going to smash Russias Baroev.

You caught me unaware that time; I was euphoric.

ON THE MAT

The first good news came with rookie Yagniel Hernandez, who became champion after defeating Venezuelan Jorge Cardoso. "I am very happy," he said, "this rival had good results in the region. It was hard, but I managed to win. I worked the most in the standing up phase, opening my arms, and in ground wrestling I worked to throw my competitor off balance."

Alain Milian (66 kg) took the bronze medal after loosing to American Harry Lester, who had won the bronze medal in the World Championships. Rookie Yunior Estrada got a bronze too, defeated by Venezuelan Eddy Bartolozzy, winner of the bronze medals in Winnipeg 1999 and Santo Domingo 2003.

GOOD NEWS IN THE PENTATHLON.

A Cuban, Yaniel Velasquez, gained the silver medal in pentathlon, which is considered as one of the most difficult sports since it includes five disciplines: shooting, fencing, swimming, and running. Some people consider these athletes to be the most well rounded of all.

Is this an amazing result? - only to a certain extent. Several weeks ago in Havana, the national commissioner for that sport in Cuba said, "Velasquez is the best Cuban at shooting, but his fencing is bad. If he improves "something hard to accomplish" he even might win the gold medal; he has not been in international competition however."

FLASHES

Cuban womens tennis team won the bronze medal, the first they have earned since Mar del Plata in 1995. Anisleyvi Bereau and Dayana Ferrer (the other woman in the team is Glendy Gonzalez) lost 0-3 in the fight for the gold medal to Americans Jun Chang and Chen Wang (the third is Tawny Banh).

The Cuban womens field hockey team took the sixth position when they lost on Tuesday to the Canadians.

Katia Rodriguez (4,984) was seventh in pentathlon this past Monday, and Suaima Garcia (4,452) was tenth.

There are only five days left in Rio de Janeiro.

---
Related News
---