Interview with Valerie Hemingway, last secretary of Ernest Hemingway
Submitted by: admin

07 / 21 / 2007
---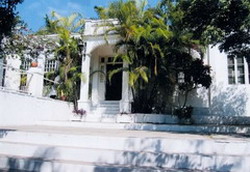 Valerie was also Gregory's wife, the younger son of Ernest Hemingway. She accompanied Mary Welsh, Hemingway's widow on her trip to Cuba in August, 1961.

- What do the links established with Hemingway during the last two years of his life (1959-1961) represent for you, Valerie?

- As a writer I was interested in literature in general. When I met him I was living in Spain . I wanted to know more and more about Spain. Then traveling to Cuba was an extension of this. Cuba was the site where he lived. I cared about Cuba because it was an island, because it was small and I myself grew up in a small island, too. He loved Cuba. I thought this would be a new bond between the two of us. But primarily, it was literature and his books. I had only read one of his books before meeting him. And it was here in Cuba where he gave me his books for me to read them.

- What books had you read?

- I had read Fiesta ; I had found it in Ireland . My uncle had it, he thought it was boring, not eligible for me and I stole it from him. Afterwards I returned it to him but I had stolen it from him. Maybe that is why I was so interested in traveling to Spain . But I had never read Hemingway, I knew nothing about him. But then, things were not like they are today. You would read but did not know the author. Today you may have a greater knowledge about the writer. In 1940 and 1950 you would just read the book, you did not need to think about the writer. What is more, in Ireland , we were more interested in the words, on how it was written, and not on who had written it. As you will be able to understand, it was a surprise for me to meet Ernest Hemingway.

- During the last few months, during his disease, the most
difficult period of his life, what were your relations like?

- Well, we always worked in a very friendly way. Even at times when he was very depressed and when he was not ready to work, an aspect that worsened when he left Cuba , in July 1960, when we went back to the United States . Back then he thought that he could return to Cuba, but he was also considering the political situation of the United States against Cuba . He was forbidden to come back. North Americans were prohibited to return to Cuba . This became a concern for him. He went to Spain and, a couple of weeks later, I joined him. He decided to return to the United States; I went back to my house in Ireland and later on I traveled to the United States .

"Hemingway was feeling deeply depressed, he was thinking about suicide. He could not work, and I was there as his secretary. But he came to realize that he no longer needed me. "Please, - he told me - stay in New York and if I ever need you I will call you". That is why I stayed in New York ."

"Mary traveled to New York and we saw each other and she asked me: `Why don't you go there in the summer time and spend some time with us?? I had a job but told her that I would; I was already working for the Newsweek magazine."

"There is something that comes to my mind now. After Hemingway's death I had not heard about him. Many long years later I found a letter owned by the University of Virginia . Hotch sold it. Ernest had given it to Hotchner for him to hand it to me but he never gave it to me. And he sold it after Hemingway's death. He sold it for money. And the collector, who sold it to the University of Virginia , sent a copy to the Kennedy Library. I found it there. In it, Hemingway was asking me to contact him; he said that he needed to see me. Ernest did not know where I was. That is why, he gives the letter to Hotch for him to hand it to me, but he never did. I was very, very sad when I read it. He was not doing well back then, he was very depressed, and he needed me. When you are that depressed and you don't want to be in contact with your friends, you only want to be alone, to be by yourself. I hope he never thought that I was turning my back on him, that I had neglected him, because we were always very good friends."

- When you left Cuba , did you go towards Spain or to the United States?

- No, we went to the United States, to New York . We traveled via Key West on board of the boat.

- Did you travel on board of Pilar?

- No, we traveled by ferry.

- Do you still remember the ferry boat? Would it be the Florida?

- I don't remember, I would have to look for it in my archives. I
remember that they always traveled loaded with metals, trunks. When we arrived over there and we left the boat, Ernest gave me a tour around Key West: his house, the Sloopy's Joe. He visited his friends Tobby and Betty Bruce. He met the Salomons. It was my first visit to that place. Afterwards, Ernest took a plane. We went all the way to Miami by bus and Ernest waited for us over there. From Miami he flew to New York. Mary and I traveled by train with the entire luggage.

"We left Cuba on July 25; I keep my passport with the stamp of my departure from Cuba ."

- Hemingway's last entry on the wall goes back to July 24.

- Yes, the following day we left Cuba. We spent 2-3 days in Key West and a few days in New York. And he left New York bound to Spain on August 4th. I left for Paris on the 15th, to travel to Spain later on. And I met with him over there.

- Why do you think that Hemingway committed suicide?

- I think he was very depressed. Compelled as he was by depression, he could not approach work. First and foremost, there were three things: his health was not doing well, and he was concerned about this. He was afraid of everything he would lose if he could not return to Cuba. He would lose his house, the staff that worked for him on the Farm. They were his friends, his family. He would lose the animals, his animals, and he loved them very much. He would lose his own life, his books, his manuscripts and everything that he used to have here. All this terrified him, depressed him. On top of all this, he had also difficulties to write. And he used to say: "If I cannot write, what sense does life have for me?" Then we have the three things that affected him the most: health, the problems to write and the fact that very likely, he would not be able to return to Cuba any more.

- Were North Americans prohibited from traveling to Cuba or was he the one that was not allowed to do so?

- It was banned for North Americans to travel to Cuba but he had been forbidden to do it personally. He could not stay in Cuba; North Americans had been urged to leave Cuba. He was told that he was an important person and that his stay in Cuba was a support to Cubans and that the American Government would break up diplomatic relations with the Cuban Government, so he should not stay longer here. Ernest would argue that he was a writer and not a politician, but he would be repeatedly told that with his stay, he was expressing himself for the sake of Cuba and not of North America and that was very bad.

- How comes he was told: "You can no longer go back" and that's it?

- Possibly because North Americans were not allowed to come to Cuba ; even when he died Mary had to be given a Special Permit issued by the United States to be able to return. And it was prohibited for her, too. She claimed that that was her house and that her manuscripts were there. She had to place her case in the hands of the US Government claiming that she had very important documents in the house that were heritage of the Americans and then, she was authorized to travel and to return. She asked me to accompany her, partly because I was there and partly, because I had an Irish passport and did not require a permit from the North American Government to travel to Cuba. This was very good for her. Yes, when Hemingway died, she needed to have a temporary Special Permit, to be able to come back.

"Hemingway understood that it could be prohibited for anybody but not for him. That was his house, where he worked, the place where he lived. He understood, since the early decade of the 30's in Key West , that in Cuba he spent better times than in Europe or Spain . But in Spain the Civil War started. Ernest did not spend much time in Key West."

- He spent a lot of time in Cuba, didn't he?

- Yes, that's right.

- I think that the site and everything he loved were to be found in Cuba. Everything that he might need: the silence of the Farm, its noises.

- Certainly, the Finca Vigía was the only real home that he ever had all over his life.

- What does it mean for you, having been part of those people who decided what to keep and what to destroy out of Hemmingway's personal belongings, his works?

- I think that it was something wonderful that destiny had preserved in store for me. I was very lucky to have been here with Mary and to have had in my own hands all those things that should be preserved. The only thing that was not kept was a small amount of letters which we destroyed because he had decided so. He wanted them to be destroyed; it was his will. I consider that these documents would have not added anything at all to his literary reputation or even that
they had had an impact upon his personal life. They are very personal
unpublished letters in which he expressed certain criteria that he didn't want the public to know about. He said things about certain people, things that he wrote about Martha Gellhorn that he thought should never be published. All those letters that we burnt had a similar nature.

"I know there are contradictory opinions: whether they should be kept or published. I thought it was the right thing to do, I agreed. People may change their mind. First, we may think in one way, then in another. Things cannot be seen only in black and white. I think that keeping those documents would have nothing to contribute to the study that experts may carry out. They would see only very private things that he did not want known."

"For example visiting his room at the Ambos Mundos Hotel was very moving, because even those who did not meet him may have an idea of how the writer was. That is why I think that, it is so important to preserve those things; to preserve this history for future generations to be able to learn."

- Do you think that Hemingway felt very affected by not being able to come back to Finca Vigía?

- Yes, I think so, although he would not express his feelings. He did not use to talk in public about his feelings. I do know very well that he would not conceive his life without returning to his Farm, when he knew in 1960, from the North American ambassador, that the Government was going to break up diplomatic relations with Cuba, and when he told him that the North American Government had asked him to informally, very informally, communicate to him that he must return to the United States and must leave Cuba.

"But this is absurd", Hemingway replied. And he added: "I live in Cuba . I do not get involved into political issues. I am a writer and a writer needs to have a place where to write. And this is my place". I know very well that he did not picture his life without Cuba. I think that all this affected him quite a lot and that it could have led him to think about suicide."

- Is that your personal opinion?

- Yes, it is.

- Was Mary Welsh the woman that Hemingway needed during this stormy and difficult stage of his anguished life?

- It is something very hard to answer because Mary was a good wife for Ernest. But she had a very strong personality and she was a very energetic woman. She was very independent; I don't think she ever told him that he was wearing the wrong clothes. She accepted him just the way he was. He did not want a woman to be over him all the time either. Mary was very independent, with a very strong temper and, in those last days when he could not remember well, he was quite depressed and could not write either. When you live next to a person in those conditions, you have to live under certain restrictions. You must repress yourself, you have to sacrifice yourself. You don't have a reason to be happy; it was hard, very hard for Mary.

"I spent a long time by her side. She, sometimes, wondered how she had been able to behave that way. She wondered why she couldn't have been better; she would torture herself wondering how she was not able to protect him more and to keep him from committing suicide. And this could only be said by somebody who felt something for him. Everything cannot work out smoothly all the time."

"I think that, probably, Ernest was always closer to Cuba than what Mary could ever be. Mary liked social life. Ernest did not care about social life at all nor did he care about meeting with certain people just because they were famous or attending given activities. He cared about taking his boat, meeting with his friends, having a few drinks at El Floridita, or maybe here at Ambos Mundos Hotel. Hemingway was not interested on social life. Mary did like to be near important people. They were just different."

- Life in common is very different from being friends. But Dr. José Luis Herrera Sotolongo told me that they had huge fights.

- Yes, it is a matter of personality. Both were very strong and whenever they fought, they really meant it. I was there; I was young and tried to be away from them whenever they argued. I used to say: "Good night" and I would go to the little house.

"Dr. José Luis Herrera Sotolongo told me that once, during Batista's dictatorship, they and a strong argument and each one got hold of a shotgun. José Luis told me that he had been really scared. He carried all the shotguns to be found in the household and put them away in the trunk of his car. And he said, that when he was driving along the Central Road , he thought: "Oh my God, if the police or Batista's soldiers stop me, how am I going to explain that the weapons are not mine, but Hemingway's?" Had it occurred, probably, the doctor would have had time not even to explain. I think that Hemingway was also a difficult person."

"I think that Hemingway was really, a very difficult person. I know that with Martha Gellhorn he would fight, too. I don't know whether he did it also with Pauline. Sometimes, couples fight strongly but that may also strengthen them."

- When I met Bumby in 1983, in one of our conversations he told me that he hated Mary.

-I think that all Hemingway's children hated her.

- And when Gregory was here in 1995, he told me that he hated Mary and he made it quite clear: "Please, do not mention her to me".

- Yes, that's right.

"In Boston , during the International Meeting for the Centennial of Hemingway's Birthday, at the John F. Kennedy Library, I asked Patrick, because I wanted to know what he thought about her. He replied: "Please, I don't want to talk about that"."

"Finally, the three of them loved Martha. And it was not because she was their father's wife; she was something more."

- What did Finca Vigía mean for Hemingway?

- It meant everything to him. Before returning to Cuba, we traveled around Spain and he was visiting some friends, the Davis, in a magnificent house. We traveled all over Spain. It was funny because when we arrived at the Farm his life was totally different. He felt much better, more serene.

"Of course he still had problems to write but it was crystal clear that he loved and adapted himself perfectly into the pace of the everyday life of the Farm. He became a different person for many of us."

"In Spain he was much more temperamental and violent, but on the Farm he was much quieter. He loved his friends such as José Luis Herrera and Roberto. They would come once a week for dinner and, sometimes, more than once. Cuco Kohly and Carlos, the doctor, would visit him, too. Lee Samuels came from Miami to see him. It was a wonderful stage of his life that began to feel the pressure that he should leave the Farm."

"He loved each and every piece of this site. He enjoyed it when we walked around the gardens. In the mornings, he would check all those things that he wanted to see about the fighting cocks with Pichilo. On Sundays we would go to see the cock fights."

"He loved Pilar; we would sail on it on Wednesdays and on Saturdays together with Gregorio."

"He loved this life that was the one which allowed him to work. He was in peace with himself whenever he stayed here. I think that the Farm was the only real home he ever had in his lifetime."

- Does Finca Vigía resemble any of his other residences?

- Not really; there were one or two sites. Mary rented an apartment in New York , but Hemingway did not like to live in New York . She looked for another place. He had his own way of being. He was like trapped in an apartment, a small apartment. Then in 1959, they bought their house in Idaho . Mary wanted her own house. Martha found Finca Vigía. I believe that they bought it as a wedding gift. It was Hemingway's wedding present for Martha.

"Mary wanted a house for herself, even though it would be that in Idaho which, among other things, was not beautiful. It was in fact a house prepared for hunting activities. It belonged to Bob Turpin, a very rich man that was married to Lana Turner. The house is not very attractive and Mary tried to make some reforms but she could not do much before Hemingway died. I think that the contrast between that house and this one here, the Farm, turned out to be very depressing for him. Imagine, he could not have many books there. I think that he did not write in it, with the exception of a few letters. It was never really a home as the Farm indeed was."

"And when I saw the house of Key West that was rented after Pauline's death, she had left the house to the three of them: Patrick, Gregory and Ernest. They did not know very well what to do with it. They rented it and later on they sold it."

"I know that Patrick hates that house turned into a museum. He would say that it was not his home and that the pieces of furniture were not the same and that the house was a lie."

"That is something I do not understand. Maybe I would have kept it. The house belonged to the three of them. Pauline had left the house to the three and Ernest gave his part to Mary. The house belonged to his two sons and she, Mary, was not part of the family."

- After your last visit to Finca Vigía , do you consider that Hemingway's Cuban legacy and that historical site receive a proper care if we keep in mind its universal importance?

- Of course, I do. When I came back in 1999, the first time after Mary and I were here, I could not but think that the house was the same old one. I was expecting to see Ernest or Mary walking through the bedrooms; it was that accurate. It was the same I had stopped seeing.

"Now I am able to understand how important what is being done is for the sake of the protection and the longevity of all the objects that are treasured. I am very impressed by everything that has been done and by the enthusiasm of its director and her team, a very dedicated staff. Preserving all that is very important."

"I do not know about all the monuments dedicated to writers in the world but I feel that this one is the one that resembles the most the setting when the author was still alive. It is exciting. It keeps the flavor of the time when Hemingway lived there."

"I prefer to see the house from outside because like this I can imagine the people that used to live inside it. I can even see Hemingway walking, typing, reading, and listening to music."

"I have the memory and the real appreciation of time and reactions. I can see René, Lola, Ernest walking in and fixing himself a drink; sitting, listening to some music just as we used to do every single night, right after dinner. They are very vivid memories; I can say the way it was and it is really a wonderful experience for me."

"I think that it will be very good for future generations. What you have done is wonderful and I congratulate you for the work and the care with which you have done it; it is very important."

- How would you explain to foreigners that Hemingway belongs to Cuba because he gained that place in the Cuban people?

- I feel that it is the same as it was ten years ago when you were telling me that people felt for him the same way that I can witness now.

- You have been able to witness it; there have been changes in the Museum. Furthermore, the staff is new, young people that you could see and address in the house when you visited it.

- That is so true.

"Hemingway is immersed within that ambience of the Museum."

"Now it looks wonderful, it is wonderful."

- Would you like to add anything else?

- For me it is a great privilege seeing places like this again, sites that had a great impact upon my life, returning to the place that has impressed me the most. Returning to the place and finding it just the way it used to be; it was very strong for me. I never ever thought it would be like this.

"Even when I went to Idaho to spend some time with Mary, six months after Ernest's death; I do not recognize that house now. There were gardens, the river could be seen. Now the landscape that Ernest would see has totally changed."

" But this site here, Finca Vigía, is very unusual."

- What do you think about the fact that we have created the Hemingway Chair, at the José Martí Journalism International Institute, devoted to studying Hemingway's life and work?

- It is very important and noteworthy. What is more, it was something that Mary wanted. When she spoke with Fidel, she wanted the house to be open to the public, to Cubans, to the people for them to enjoy it. She added that she would like a study center to be based there. And this is what you are doing. You do not do it in the house because it has a very specific function as a museum but now Mary's wish is fulfilled, and so is Ernest's will as well; but Mary could never imagine how wonderfully Ernest was going to be studied in Cuba.

- People who study his life, his work, and his books may work at the Hemingway Museum , at Finca Vigía ; they may visit his house.

- That is great.

- Thanks, Valerie, for everything.

- Thank you, for me it is a privilege being able to be in Cuba .

*Gladys Rodríguez Ferrero is a collaborator of Cubarte. She is an acknowledged Cuban expert on Hemingway's studies and was the director of the Finca Vigía House Museum during 17 years.
Source: ACN
---
Related News
---