Gold medal to Cuba in last day of Rowing competitions
Submitted by: admin

07 / 20 / 2007
---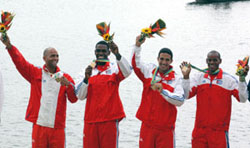 RIO DE JANEIRO, July 19 - On the last day of the rowing competition, this Thursday, July 19, at the Lagoa Rowing Stadium, Cuba, the United States and Canada were the winners.
The gold medal went to Cuba in the Men's Four Skiff with Yuleydis Cascaret, Janier Concepcion, Angel Fournier and Yoennis Hernandez, who timed 6min43s60. Argentinean Victor Sebastian Claus, Ariel Suarez, Santiago Fernandez and Cristian Alberto Rosso assured the silver, 4s14 after. Yet the bronze went to American Warren Anderson, Jamie Schroeder, McEachern and Francis Cuddy, who finished the two kilometers timing 6s05 behind the Pan American champions.
Continuing with the competition, it was Canadas turn to win the womens version of the event. Nathalie Maurer, Zoe Hoskins, Peggy Hyslop and Cristin McCarty finalized the 2km of the event, timing 7min42s62. The United States team, with Julie Nichols, Reilly Dampeer, Sarah Trowbridge and Margaret Matia got the silver, only 55 centesimal of second behind the present champions of the Pan American Games Rio 2007. The bronze went to Argentina, represented by Carolina Schiffmacher, Maria Laura Abalo, Maria Gabriela Best and Lucia Palermo timing 7s67after.
In the mens coxless four lightweight, the top of the podium was again for the Canadians. Adam Reynolds, Andrew Borden, John Haver and Paul Amesbury got the gold timing 7min02s90. Andrew Bolton, Bjorn Larsen, Matthew Smith and Simon Carcagno got one more silver medal for the USA. The bronze was held by Cuban Eyder Batista, Dixan Massip, Iran Gonzalez and Yunior Perez (1s65 later). Alter leading a good part of the event, Brazilian Ronaldo Vargas, Leandro Ferreira, Thiago Almeida and Alexis Mestre did not hide their disappointment for having arrived fourth.
In the eight with coxswain, the gold went to American Troy Kepper, Chris Callaghan, Gabe Winkler, Daniel Beery, Cameron Winklevoss, Sebastian Bea, Patrick ODunne, Howard Winklevoss and Ned Delguercio, timing 6m22s47. The Brazilian medal lost in the coxless four lightweight ended up by being achieved in the eight with coxswain. Hosts Renan Castro, Alexandre Ribas, Leandro Tozzo, Gibran Cunha, José Roberto Nascimento Junior, Marcelus Silva, Anderson Nocetti, Allan Bitencourt and Nilton Alonico kept the silver at home (10s89 after the winners). The bronze (16s56) went to Argentinean Alan San Martin, Marcelo Bronca, Maximiliano Martinez, Joaquin Iwan, Horacio Sicilia, Diego Lopez, Damian Ordas, Mariano Palermo and Joel Infante.
Source: rio2007.org.br
---
Related News
---