New York explosion in midtown Manhattan
Submitted by: admin

07 / 19 / 2007
---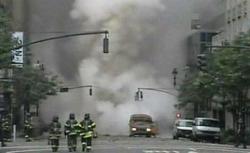 ONE person has died and more than 20 have been injuredfroma steam-pipe explosion inmidtown Manhattan, the New York Times has reported.

The explosion, believed to be caused by cold water in the 24-inch pipe, sparked panic among commuters as dozens of New York City police and fire crews rushed to the destroyedarea near Grand Central Station.
In Washington, a US Department of Homeland Security official said there was no apparent link to terrorism.
"Right now it is a localised incident," the official, speaking on condition of anonymity, said.
"At this point, we see no nexus to terrorism."
New York Mayor Michael Bloomberg said there was no reason to believe "this is anything other than a failure of our infrastructure".

Commuter panic
The explosion closed Grand Central Station and a handful of surrounding buildings wereevacuated.
A witness reported that a building had collapsed, but police said it was still upright but "shaky". Bystanders were being kept at least a block away due to falling debris.
"There was a thundering noise like a hundred freight trains going by and a plume of what looks like steam as high as 10 stories," said one witness of the explosion.
"747 on a runway"

A reporter at the scene said the noise sounded like a 747 on a runway.
The explosion occurred just before 6pm (8am AEST) and sent crowds of people fleeing north.
New York has been on a heightened state of alert ever since the September 11 attacks of 2001 and any large scale emergency prompts a certain degree of panic among a nervous population.
The explosion came just a day after a US intelligence report suggested that Islamic extremists were intent on attacking the United States.
---
Related News
---