Trinidad: "The Museum City of Cuba"
Submitted by: admin

07 / 12 / 2007
---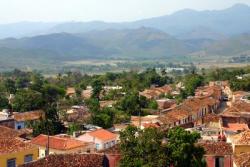 The historical center of Trinidad covers an area of 3 square kilometers of ancient colonial buildings. The pebbles used to pave the streets are one of the symbols distinguishing "the sleeping beauty of Cuba", as well as, its large railing windows, some of them made of iron and others of wood offering distinction. Clay roofs, churches and squares, are also part of this beautiful place just like in the 18th and 19th centuries, time of its greatest splendor, just as it were enchanted.
The pastel colors of its houses highlight the tropical environment of this settlement located at the base of Escambray Mountains, with the sea on its back, to 154 kilometers from the City of Santa Clara.
This was a key place for sugar production, it is no casual its proximity to the Valle de San Luis or los Ingenios. In this place, the most important landowners of the central part of the country settled ,who spared no effort in luxuries for their mansions, treasure that today keeps Trinidad romantic museum and those houses that are real museums themselves.
Therefore, to visit Trinidad and to lodge in one of its hotels or in an excursion per day, is like to get in the machine of time and return to the Colonial Cuba.
---
Related News
---