Pastors for Peace Friendshipment Caravan in US and Canada
Submitted by: admin

07 / 04 / 2007
---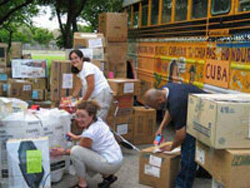 The Pastors for Peace Friendshipment Caravan will make 120 stopovers in the United States and Canada to gather medical supplies before heading to Havana, Cuba, reported the Seattle Times on Monday.
The convoy, comprised of 14 buses, takes place to protest about the US blockade against the island, notes Prensa Latina news service.
Lucia Bruno, spokesperson for the Interreligious Foundation for Community Organization, of which Pastors for Peace is a special ministry, recalled that the solidarity with Cuba effort is now in its 18th year. She said in 2006 the caravan took approximately 60 tons of donations to Cuba.
"People usually deliver medicines, therapeutic equipment, bicycles, walkers, and other articles," Burno told the Seattle Times.
She added that between 100 and 300 activists join the caravan of fraternity with Cuba each year and ages vary from 16 to 90.
The United States has maintained an economic, commercial and financial blockade on Cuba for nearly a half century that has cost the island an estimated 70 billion USD in losses.
Starting in Seattle, the first 2007 Pastors for Peace caravan bus began its journey on Monday. The 14 buses are scheduled to embark later this summer for Cuba from Tampico, Mexico.

Source: Granma
---
Related News
---