Cuba is paying old debts to farmers and increases prices for milk and meat
Submitted by: admin

06 / 30 / 2007
---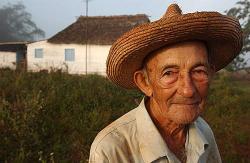 Cuba is repaying debts to farmers and promising higher prices for milk and meat in an attempt to increase flagging food production in a society that depends on the state for most of what it eats.
It's trying to head off a crisis in its food system: Production dropped 7 percent last year, imports are becoming more expensive and consumers complain their tiny government salaries don't allow them to buy more than a few items a month at supply-and-demand farmers markets.
inance and Prices Minister Georgina Barreiro said Friday that the state had paid off 550 million pesos ($23 million; €17 million) in debts to the small farmers and cooperatives that grow two-thirds of the island's fruits and vegetables, and renegotiated debts worth 863 million pesos (US$35 million; €26 million).
"These debts never should have accumulated," Barreiro told a National Assembly session headed by Acting President Raul Castro.

Food production is a highly sensitive issue in Cuba, where shortages of everything from meat to potatoes were common after the collapse of the Soviet Union and its generous subsidies. Food is more plentiful today, but Cubans still complain that most of the vegetables and fruits sold by private producers are too expensive.

Cuban officials have been unusually candid about the problem in recent weeks, with Vice President Carlos Lage complaining to municipal leaders that food "production is insufficient and commercialization is deficient."

The government in recent weeks has instituted a new billing and payment system in which banks must pay producers immediately. Lawmaker Orlando Lugo, president of the National Association of Small Farmers, said more than half of Cuba's 3,500 cooperatives are using the new system or are about to start.

"The producers are in much better spirits," he said at Friday's session.

Meanwhile, the ministries of agriculture and sugar, along with provincial and municipal leaders, have been ordered to create tracking systems to make sure payments to the small farmers and cooperatives don't fall behind again.

And parliament on Friday agreed to pay producers 2 1/2 times more for milk and meat included in the island's heavily subsidized ration program and in meals provided at similarly low-cost workplace cafeterias, schools, hospitals and community centers. The prices consumers pay will remain the same.

The cooperatives and small farming enterprises were created in 1993 when the government restructured its centralized food system, breaking up big state farms into smaller units owned and managed by workers. Smaller parcels went to individual farmers.

Less than 15 years later, more than 150,000 individual farmers and agriculture cooperatives now produce two-thirds of the country's food using just a third of the island's workable land. State farms work the rest.

After meeting state quotas, the farmers can sell the rest of their goods at farmers markets. Cuba has more than 300 markets, including about 50 in Havana.

But Cuba is a long way from becoming self-sustaining. The country spends US$1.6 billion (€1.2 billion) a year importing food, about a third of it from the U.S. Even 82 percent of the food sold at subsidized prices on the ration system is imported.
---
Related News
---