Apple's new iPhone to hit stores, hundreds wait on line to get one
Submitted by: admin

06 / 30 / 2007
---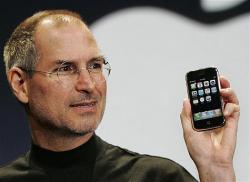 SAN FRANCISCO/NEW YORK (Reuters) - Hundreds of gadget fans, or their paid stand-ins, lined up on Friday to be the first buyers of Apple Inc.'s iPhone, a music and video playing phone that seeks to change the mobile industry.
Apple stores became a magnet for technology enthusiasts to wait for the phones go on sale at 6 p.m. local time in each U.S. time zone.
More than 200 people had lined up in front of Apple's Fifth Avenue store by midday on Friday. Another 100 stood outside its San Francisco branch for a device that has whipped technology lovers into a frenzy usually reserved for rock stars.
"It's a gift for my wife," said Eric Brandon, 42, in New York. "It's a little expensive, but it's worth it because there is no other phone that's like it."
Some aimed to make a personal profit from the iPhone, which costs up to $600, by selling it or getting paid to wait. Others had been sent by family members or bosses keen on the bragging rights of being among its first owners.
"Some one is paying me a few hundred bucks to hold the spot," said Roy Fuller, 26, an administrative assistant who took the day off work to spend on line. "Right now, it's $500, $600 ... I don't know if I want to shell that out right now for a phone."
Smaller clusters of customers lined up at stores for AT&T, the exclusive carrier for the phone for the next two years.
The svelte iPhone is a gamble by Apple co-founder and Chief Executive Steve Jobs to build upon the success of the best-selling iPod music player and expand the market for the company's software and media services.
The iPhone melds a phone, Web browser and media player. It received rave reviews from U.S. technology gurus who praised the gadget as a "breakthrough" device that is "beautiful."
"They want to extend the dominance they have in terms of their ability to create really elegant hardware and software integration," said Mark McGuire, analyst with research firm Gartner. "This is the next big business unit for them."
Shares in Apple rose 2.5 percent to $123.57 on Friday and have gained more than 30 percent since Jobs unveiled the phone in January. AT&T shares rose 1.3 percent to $41.23.
RIVAL PHONE MAKERS FEEL HEAT
Friday's launch is also viewed as a test of wider U.S. demand for advanced phones, which have already caught on in parts of Asia and elsewhere.
Apple is expected to sell the iPhone in Europe later this year in the run up to the holiday season. It has not disclosed the price or carrier, though speculation has mounted it may reach a deal with British-based Vodafone Group Plc.
Sales in Asia are expected to begin sometime in 2008.
But the iPhone's effect has rippled through the wireless industry before even a single unit has been sold.
Rival Palm Inc. has said the iPhone could hurt demand for its Treo smartphone, at least in the short-term.
"It's likely that as people try (the iPhone) out, there may be some stall in our sell-through," Palm Chief Executive Ed Colligan told Reuters on Thursday.
The phone comes in two versions depending on memory capacity, and requires a two-year contract from AT&T for voice and data plans ranging from $60 to $100 a month.
Early reviews have highlighted its large touch-sensitive screen and the full-blown Web browser, while expressing concern over the quality of AT&T's network, the Apple phone's virtual keyboard and lack of features such as picture messaging.
Industry analysts expect Apple will sell lots of phones when the device hits shelves.
"We're building a fair number of them, but we may not (meet demand)," Jobs told the Wall Street Journal in an interview. "We've taken our best guess, but it wouldn't surprise me at all if it ain't enough."
What's less clear is whether sales will hold up once the initial burst of excitement has waned.
Jobs aims to sell 10 million units in 2008, which would give Apple a 1 percent share of the global market and at least $5 billion in revenue over two years.
Piper Jaffray said this month Apple could sell 45 million units in 2009, putting the iPhone on par in terms of revenue with its two key businesses, the Macintosh computer and iPod.
By Scott Hillis and Franklin Paul

---
Related News
---