Family Meeting Place
Submitted by: admin

06 / 29 / 2007
---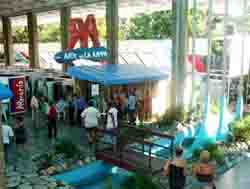 The eighth edition of the "Arte en la Rampa" Fair will run at the Cuba Pavilion from June 30 through September 2. Diversity, good taste and a broad presence of craftworks from hosts Havana and other provinces of the Island will be the main features of this 2007 gathering, dedicated to the 45th anniversary of the Young Communist League (UJC).
Among the novelties of this 8th edition are the EGREEM proposals with a varied offer of childrens music with titles such as "El bolsillo del duende" and "Los cazadores de cuento". In addition to the presence of other Cuban record companies with their latest productions and titles from outstanding figures of great acceptance, this time it will show musical instruments and accessories such as strings, nails, among others, as well as DVDs with video clips by our artists.
Likewise, books and literature will be present in this exhibition ground with titles from different publishing houses. Also outstanding in it is the variety of the stationary and school accessories, as well as coloring notebooks inspired on childrens songs.
"Arte en la Rampa" Fair, the longest of its kind organized on the Island, will take place in Havana from July through August. It has become a cultural proposal that contributes to a highbrower recreation and to the spiritual enrichment of all Cubans, thus allowing them to appreciate and buy items of high artistic value.
The Cuban Fund Cultural Assets outstands in this 8th edition for its 46 stands with all manifestations, including handcrafted furniture, works by prestigious artists from Cuban plastic arts like Fúster, who will paint right at the exhibition site, as well as samples that best exemplifies Cuban handicraft.
The gathering will house again proposals from the project so-called "Arte en casa" (Art at Home), which major attraction is the harmonic combination of quality and usefulness of the items shown. It will see the participation of creators from contemporary Cuban plastic arts, some of whose works have been reproduced in dissimilar items of daily use such as fans, shower curtains, tablecloths, umbrellas, plates, cups and other crafts. For their part, three renowned contemporary painters -Nelson Domínguez, Juan Moreira and Alicia Leal- will have their personal stands at the Cuba Pavilion.
As usual, an artistic program will join the ferial days, which presentations for the children will take place on Thursdays at 4:00 pm and on Saturdays and Sundays at 11:00 am, while Fridays, Saturdays and Sundays will feature concerts for adults. Every Saturday, at 5:00 pm, visitors can also attend a fashion show with designs from our major creators.
The Fair will open from Monday through Friday, 2:00 pm - 8:00 pm, but 10:00 am -8:00 pm on Saturdays and Sundays.
As every summer Havana will host again the "Arte en la Rampa" Fair, a new bet on the diversity and quality of our cultural productions.
Source: By Maria del Carmen Vasallo, CubaSi
---
Related News
---