Leinier Domínguez Ties with Ivanchuk in Airosvist Chess Tournament
Submitted by: admin

06 / 29 / 2007
---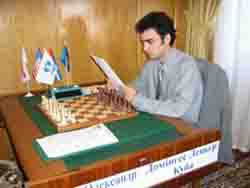 Cuban Grand Master (GM) Leinier Domínguez tied on Wednesday with Ukrainian Vassily Ivanchuk after 36 moves of a Sicilian Defense in the ninth round of the strong international chess tournament of Airosvist, currently underway in the city of Foros, Ukraine.
With this result, Ivanchuk still shares the lead of the contest with compatriot GM Serguei Karjakin, both with six units, after the latter also drew on Wednesday with India's GM Krishnan Sasikiran.
In other results, Romanian GM Liviu Dieter Nisipeanu tied with Dutch GM Loek Van Welly and American GM Alexander Onischuk also drew with Russian GM Peter Svidler.
In the meantime, Spanish GM Alexei Shirov downed Russian GM Dmitry Jakovenko while Ukrainian GM Pavel Eljanov tied with Russian GM Serguey Rublevsky.
Now, Shirov follows the leaders with 5.5 points while Leinier, Svidler, Onischuk, and Van Welly share spots 4-7 with 4.5 units apiece. Jakovenko and Rublevsky share places eighth and ninth with four points apiece, while Nisipeanu, Eljanov and Sasikiran close the standings with 3.5 units apiece.
Source: ACN
---
Related News
---