The Cuban coffee
Submitted by: admin

06 / 25 / 2007
---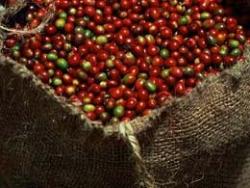 Although café is not originated in Cuba, it has become essential in the life of Cuban people to the extent of taking an important part in their culture. For the great majority of adult people in this country to drink a steaming cup of coffee is one of the first things to do at the beginning of the day and an obliged excuse for any meeting or a good after-dinner conversation.
Coffee was brought by French immigrants to the eastern region of Cuba, after the anti-slavery revolution that took place in Haiti at the end of the 18th Century.
In general, Cuban coffee plantations have been always located in the mountain range of the island, about 500 to 800 meters over the sea level. Even though being the Sierra Maestra mountains as well as Sagua-Baracoa mountain massif the most important areas to obtain it, there are also a strong tradition in this crop at the Escambray mountains, to the central part of the country and in Sierra del Rosario and Sierra de los Organos mountains situated in Pinar del Rio province.
In Cuban mountain ranges, the coffee tree found a microclimate that provided it the ideal conditions for its growing, thus, the Cuban coffee production was one of the greatest productions in the world at that time.
Nowadays, there are remains of those coffee plantations in Pinar del Rio province, especially in La Isabelica, in La Gran Piedra, near to Santiago de Cuba province which is one of the most important ones and also one of the best preserved plantations.
Today, the Cuban coffee do not stand out due to its great number of exportations but for its high quality, especially in the Arabica specie that makes it one of the most preferred worldwide, particularly in Japan, one of the most demanding markets. Among the most famous brands are Cubita, Turquino, Hola, and the very well known Crystal Mountain.
Cuban people would stop being in the way they are if they were not inspired by such a prized thing for them. Therefore, coffee is motif for many artistic productions. Undoubtedly, the most famous musical composition is that immortalized by the famous Havana artist Bola de Nieve whose refrain says......"Ay mamá Inés, ay mamá Inés, todos los negros tomamos café".
---
Related News
---