Woman faces deportation for illegal voting
Submitted by: admin

06 / 25 / 2007
---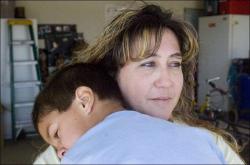 All of her life, Zoila Meyer believed she was an American. She even was elected to the City Council in Adelanto, a California town of about 23,000.
But now she could be deported for illegally voting, because she never became a citizen after being brought to this country from Cuba when she was a year old.
"To be honest with you, I'm scared. How can they just pluck me out of my family, my kids?" the 40-year-old mother of four said Friday.
After Meyer was elected to the council in 2004, someone told officials she was born in Cuba, prompting an investigation.
Eventually, "the police came to me and said, 'You're a legal resident but you're not a citizen,' " said Meyer.
She resigned after 10 weeks in office, applied to become a naturalized citizen and continued with her life -- raising her children and attending college.
But because she wasn't a citizen, Meyer faced a felony charge of illegally voting in the 2004 election. In April 2006, she pleaded guilty to a misdemeanor charge of fraudulent voting and was placed on probation, fined and ordered to pay restitution.
Meyer didn't realize that fraudulently voting is a deportable offense. On June 18, immigration officials showed up at her home and told her to appear at their office.
She went Tuesday, "and they handcuffed me," Meyer said. "They put me in jail and they frisked me and processed me."
Immigration officials were just doing their job, said Lori Haley, a spokeswoman for U.S. Immigration and Customs Enforcement. "She can plead her case before an immigration judge, if she feels that she has reason to seek release for removal."
Meyer is to appear July 18 before an immigration judge who will determine whether she'll be deported to Canada, the last point of entry into the United States recorded in her immigration record.
BY ROBERT JABLON
ASSOCIATED PRESS
---
Related News
---