CARICOM and the future global system
Submitted by: admin

06 / 25 / 2007
---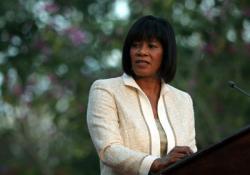 Below is an excerpt of the address by Prime Minister Portia Simpson Miller to the Conference on the Caribbean held in Washington, D.C., last week. This conference is more than a tribute to the long, fruitful and mutually beneficial relationship that has existed between the United States and the Caribbean.
I believe that we have been summoned by history to this particular place, and at this moment in time, to fashion bold new pathways to significantly advance the agenda for human development and peace.
This is an impressive gathering of political decision makers, high-level representatives of the business sector, multilateral institutions, the academic community, NGOs, experts on Caribbean development, and leaders of the Caribbean Diaspora here in the United States.
For this conference to be meaningful, we must place at the centre of our deliberations, the sustainable development of all the people of our Community.
Main trading partner
Let me, at the outset, extend my profound appreciation to the President, Government and people of the United States for their hospitality and graciousness.
The United States remains our main trading partner and is home to large numbers of our Caribbean people. We note that the CARICOM-United States Trade and Investment Council has been reactivated after a seven-year lapse.
It is my hope that through this Council we will be able to conduct an effective dialogue on development through greater trade and investment flows.
The Caribbean and the United States are not only geographic neighbours. We share a common democratic tradition, with values such as respect for the rule of law, individual liberty and human rights.
Over many years we have maintained an intense desire to cooperate and collaborate, recognising that our futures are inextricably linked. The countries, governments and people of the Caribbean Community remain committed to pursuing with America, common interests, sharing as we both do, a common geographic and cultural space.
Minimise regional threat
The Caribbean is small, vulnerable and faces certain threats. It is important, therefore, that we seek to eliminate, or at the very least minimise, the threats which the region faces.
These threats include:
# Poverty and its wide-ranging social and economic implications
# Food insecurity
# HIV/AIDS
# The effects of international terrorism
# The illicit trade in drugs, guns and ammunition; and
# The new wave of deportation.
We also sufferfrom:
# The negative aspects of globalisation, such as uneven and unfair trade
# Vulnerability to fluctuations in trade and financial crises
# Instability in global financial flows
# Rising oil prices and its attendant energy challenges
# Natural disasters such as hurricanes; and
# Global warming and other negative environmental manifestations.
Development challenges
The region's high debt-servicing burden; reduced official development assistance; declining terms of trade due to the phase-out of preferential trading arrangements; and reduced demand for tropical commodities and raw materials, have added to the development challenges and vulnerability of the region. Nine of our countries rank among the 25 most vulnerable countries in the world and 13 are among the 50 most vulnerable.
The issue of migration, which this country is grappling with, is related to some of the development challenges facing the Caribbean.
This Conference on the Caribbean is a timely opportunity for us to strengthen our bonds in one common quest for development and peace. Problems such as these will never be fully solved until a comprehensive and holistic approach is taken to the regional development agenda.
The global environment in which we operate, challenges us to forge new approaches to secure development for our people.
While we remain committed to fiscal responsibility, I remain convinced that even as we balance the books, we must also balance people's lives.
The people of the Caribbean demand social and economic justice and they want it now.
Poverty fuelling crime
In many of our Caribbean societies, poverty is fuelling persistent crime and violence. The CARICOM region does not manufacture guns. Yet we are flooded with guns and ammunition, which worsens our situation of crime and violence. While the Caribbean appreciates the cooperation we have received in this area in the past, a case must be made that this is an area which demands further action.
The situation is madeworse by criminal deportation. In a global environment, crime requires an international response. This must involve programmes for rehabilitation and re-integration of deportees into the societies to which they are sent, as well as mechanisms for effective monitoring.
In light of current realities, we as Caribbean leaders are compelled to articulate and address the burning issues of the people. None is more pressing than the desire for economic opportunities.
Securing freedom
In his 1944 State of the Union Address, President Roosevelt reinforced this point when he stated that, "We have come to a clear realisation of the fact that true individual freedom cannot exist without economic security and independence."
Economic independence and the freedom from economic want are critically important. Without that freedom, civil liberties mean very little and are always under threat. Without that freedom the war on terror can never be effectively fought. Poverty, injustice, inequality and uneven development are threats to security, both national and international.
There is a crucial link between international trade, economic openness and democratic freedoms and peace.
The Caribbean today is calling for greater trade openness in the markets of developed countries, and for fewer barriers to the exports of our goods, so that we can, indeed, pull ourselves up by our own efforts.
The total trade in goods and services of CARICOM states accounts for less than 0.1 per cent of total global trade. This is a minuscule figure, which indicates that any concessions granted to us would not cause any disruption to world trade.
Creating decent jobs
The future demands transformation of our economies and a significant injection of resources needed to create the environment for decent jobs.
In the area of global trade, it is imperative that we make progress in the Doha Development talks. The Doha Development Round is crucial.
The Caribbean is insisting that the promises of the Doha development agenda are delivered. All of us here - developed and emerging economies - have too much to lose from further delay in concluding this round.
While we advocate changes to the international trading and financial system, CARICOM has been proactive. Our approach is to do all that is necessary within our individual countries, and as a region, even while we press for changes at the global level.
In the first place, CARICOM member states recognise the need to restructure and diversify our national economies to enhance resilience, create employment and increase productivity and competitiveness.
Our countries have sought to improve the national and regional policy environment by maintaining an open market for goods, services, investments and ideas.We remain committed to the CARICOM Single Market and Economy as one way of increasing our regional growth potential. With the single market now in place, work is progressing towards a single economy.
This will greatly facilitate our competitiveness as business, capital and labour move freely throughout the region.
Our regional policy and institutional environment has also been strengthened by the reduction in the fiscal deficits of many CARICOM states.
Attracting investment
Our governments have been pursuing policies to create the appropriate macroeconomics environment to attract investments to stimulate growth and employment.
Increasing levels of foreign direct investments is an indication of the improvements which have been made in our investment climate.
Investments in tourism, for example, have been vibrant. Another US$25 billion is expected to be pumped into the sector over the next five years. There have also been significant investments in the oil and gas sector, in information technology, as well as in financial services.
As I mentioned earlier, CARICOM countries have employed great effort to adjust to the dynamics of the changing global environment. The multilateral organisations represented here can attest to that.
However, without the accompanying measures at the external level, our efforts would be doomed or at best stymied.
Objectives for action
It is therefore critical that a conference like this places certain clear objectives on the agenda for action.
In this context, I suggest that we should seek to:
# 1. Arrive at a commitment to promote the priority attached by both sides to the U.S.A.-CARICOM economic and trade relationship.
# 2. We must bring to an end the growing uncertainty about the future of Caribbean Basin Initiative/Caribbean Basin Economic Recovery Act (CBI/CBERA) preferences.
We need to maintain CARICOM's current access to the United States for ethanol.
Duty free access for ethanol from the Caribbean into the U.S. market is perhaps the only U.S. policy on energy that benefits the region.
In Jamaica, the facility has led to a major expansion of the ethanol production capacity with two new plants coming on stream over the next few months to boost our supplies to the U.S.
The arrangement with the U.S. under the CBI provision has enabled in Jamaica, a deliberate national policy to promote ethanol as a cleaner, more sustainable replacement for octane enhancers in the gasolene mix.
# 3. There must be a commitment to work in the WTO to ensure that any package to resolve the current impediments and advance the Doha Development Round negotiations, contains specific measures to address the concerns of small, vulnerable economies, such as those in CARICOM.
This would include options for meaningful special and differential measures in bilateral trade agreements with developed countries.
It should also include provisions for special products and special safeguard mechanisms in agriculture.
In addition, a suitable Doha package must have flexibility in the reduction commitments in non-agricultural market access and special provisions in relation to the temporary movement of workers in services.
# 4. There should also be a commitment to increasing investments in technology and research which is critical to the longterm and sustainable development of the CARICOM region.
This is important to increase the use of renewable energy; enhance energy efficiency; and adjust to the impacts of potential disasters arising from climate-related events.
In this regard, we welcome the recent leadership by the World Bank in the creation of the Caribbean Catastrophe Risk Insurance Facility to provide resources to Caribbean countries affected by hurricanes. We urge that it be expanded to cover other categories of risks.
Mr. Chairman, I have tried to place in context, the challenges with which we are faced as a group of nations. Many of these are due to globalisation; the removal of preferences; the actions of other countries and criminal activity, which has the potential to destabilise our societies.
Despite these challenges we have taken significant steps to bolster our economies, to open them to the free flow of capital, goods and ideas, and to build our physical and human capital.
We are beginning to see early signs of progress. The progress is, however, fragile and requires a strategic partnership between Caricom and the United States to secure gains to our mutual benefit.
Mr. Chairman, I am hastened to action by the poverty that still abounds in our countries.
Ladies and gentlemen, poverty is real. There are real dangers and threats to our societies if we continue to skirt around the issues of want, hunger, misery, joblessness, ignorance, and people's frustration.
We must now move with purposeful haste to address those issues.
Unless we take an integrated approach to development and put the development of people, poverty alleviation, and the reduction of inequality at the centre of the development agenda, we would have lost an opportunity for which future generations will judge us harshly.
---
Related News
---