Chinese presence and interests in Cuba growing
Submitted by: admin

06 / 24 / 2007
---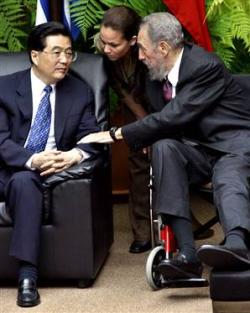 HAVANA --
Yibo Shen came to Cuba five years ago to study Spanish at the University of Havana.
He's still here, working and passing time in Chinese restaurants on the weekends, one of a growing number of Chinese living on the island as Cuban-Chinese trade booms.
China is now Cuba's second-largest trading partner, after Venezuela. Trade between Cuba and China soared last year to $2.4 billion, Ricardo Alarcón, Cuba's national assembly president, said during a recent trip to China.
China's oil company is exploring offshore oil, and Chinese businesses are flourishing. Inexpensive Chinese sneakers and auto parts fill Havana's bare-bones shops. Chinese pharmaceuticals are being developed in ventures with Cuban firms.
''We expect a substantial increase in Chinese visitors to Cuba,'' Alarcón said in China. China's Xinhua news agency reported in March that 10,000 Chinese visit Cuba each year.
FEW RESTRICTIONS
The trade embargo prevents most U.S. businesses from trading with Cuba, and a U.S. travel ban keeps most Americans from visiting the island. The Chinese have no such difficulties.
Shen, for example, represents one of China's largest bus manufacturers, the Yutong Group. In just a few years in Cuba, he has sold thousands of Chinese buses as replacements for a tattered fleet that largely had succumbed to age and a lack of spare parts.
''Every day more Chinese companies come here to invest and sell things, much more than four years ago,'' he said in fluent Spanish.
Sitting in a Chinese restaurant in Havana's old Barrio Chino, once the largest Chinatown in Latin America, Shen, who hails from Shanghai, ate ribs and chatted in Mandarin with two Chinese women. They were midlevel Spanish students at the University of Havana, where many Chinese people are studying.
Ivana Cho, who is also from Shanghai, said she wanted to do postgraduate work in Cuba in tourism or economics.
The number of Chinese students studying in Cuba is uncertain. Neither the Chinese nor the Cuban government is willing to provide such information. But there's little reason to doubt that the number is growing. Both governments are eager to see the relationship between the countries prosper.
When Alarcón spent five days in China earlier this month, he visited Shanghai, China's financial center, and the booming commercial region of Guangdong.
Not only Chinese businesses have made inroads in Cuba. Chinese culture has seen a renaissance in the Barrio Chino as well, after many years of decline.
At an early-morning Chinese exercise class in an open-air kung fu studio in Havana's Chinatown, more than 100 Cubans practiced qi gong, many wearing commemorative T-shirts from a China trip they took last year.
Such tai chi and kung fu schools have spread to towns across the island, with an estimated 5,000 practitioners.
A few hundred thousand Chinese laborers were brought to Cuba starting in 1847. They built a thriving neighborhood outside the walls of old Havana and blended Chinese and Afro-Cuban culture, fighting in Cuba's independence wars and in the 1959 Cuban Revolution, Brown University professor Evelyn Hu-DeHart said.
After Fidel Castro took power in 1959, many Chinese-Cubans lost their small businesses to economic nationalization. Many left for the United States or elsewhere in Latin America.
But not all.
In a Chinese senior center across the street from the kung fu studio, Abel Fung recalled how he lost his small shop after the revolution. He eventually went to work as a machinist in a government shop.
Over the years the Barrio Chino lost much of its Chinese flavor, but an infusion of tourism and now a new generation of Chinese are bringing it back.
POPULAR EATERY
Tao Jin Rong, a prominent businessman in the Barrio Chino, came to Havana in 1995 to open a restaurant.
''I am Chinese-Cuban, a Chinese person born in Shanghai, but I live here in Cuba permanently,'' Tao said.
His restaurant, Tien Tan, which operates under a special license from the government, gets high marks from Cuba's burgeoning Chinese community.
But while neighboring restaurants compete, there's little true capitalism. None of the Barrio Chino businesses are truly independent, said Roberto Vargas Lee, vice president of the Cuban Federation of Martial Arts.
''All of the Barrio Chino is registered with the state, under a very important principal: the development of culture,'' he said. ``It is not that in the neighborhood there is some form of capitalism or that we are establishing a trend of restaurants and businesses that think they are independent, not at all.''
And tourists remain the biggest customers for the Chinese restaurants. Few Cubans can afford them.
That's something that Tao hopes will change.
''Cuba needs to find its Chinese food again,'' he said.
Nathaniel Hoffman is a McClatchy special correspondent. Tim Johnson contributed to this report from Beijing.
BY NATHANIEL HOFFMAN
McClatchy News Service
---
Related News
---