US Lawmakers Seek to Open Cuba Trade
Submitted by: admin

06 / 23 / 2007
---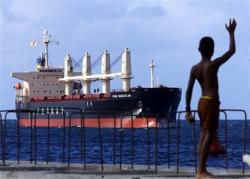 WASHINGTON (AP) - Lawmakers from both parties proposed opening up agriculture exports to Cuba and ending travel restrictions, putting them at odds with a White House adamantly opposed to easing a half-century-old embargo.
"Our policy is just so wrongheaded," said Senate Finance Committee Chairman Max Baucus, D-Mont., who with other farm state lawmakers has long pushed for ending the restrictions on trade with Cuba. His proposed legislation, he said Thursday, is "a step toward restoring sanity to this economic relationship."
The trade and travel embargo imposed on Fidel Castro's government comes up almost every year in Congress, but the bipartisan drive to ease restrictions has never been strong enough to overcome anti-Castro lawmakers and White House veto threats.
Baucus was joined in his effort by House Ways and Means Committee Chairman Charles Rangel, D-N.Y., and two farm-state Republicans, Rep. Jo Ann Emerson of Missouri and Sen. Mike Crapo of Idaho.
"The backwards American policy on Cuba hurts our U.S. producers a whole lot more than it hurts Fidel Castro," Emerson said.
In 2000, during the Clinton administration, Congress passed a law allowing cash sales of food and agriculture products to Cuba, and since then the United States has sold some $1.5 billion in farm products to the island nation. But trade has been hampered the last two years by a Treasury Department ruling that Cuba must make advance payments before agriculture and medical products can be shipped. It later allowed shipments after third-country banks received payments.
The Baucus bill would remove prepayment requirements, allow direct payments to U.S. banks, provide expedited visas to Cubans involved in buying farm products from the United States, and lift a rule that requires exporters to make onsite verification of the receipt of medicines and medical equipment sold to Cuba.
It would lift all restrictions on travel to Cuba, which is now open to a limited group including Cuban-Americans, religious groups, academics and journalists.
Asked about the chances for success this year, the lawmakers pointed to growing popular support in the United States for easing the embargo and President Bush's foreign policy problems. "The president's credentials on foreign policy are not at an all-time high," noted Rangel.
---
Related News
---