The story of one of the most famous pictures in the world
Submitted by: admin

06 / 23 / 2007
---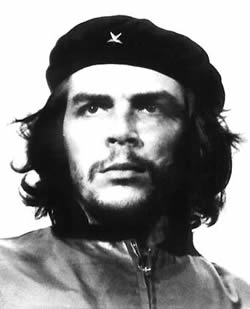 Cuban people are not surprised anymore when finding the most famous picture of Che as a decorative motif in different products. The traditional souvenirs are left behind. The revolutionary icon can be found since long time ago in places like the CD cover of Madonna American Life, the face of the prestigious Swatch watches, the tattoo in the abdomen of the legendary boxer Mike Tyson and even in a bathing suit style showed in the main runways in the summer of 2002 with great success.
The image is the same, the immortal photo that Korda took to the commander during the funerals of the victims of La Coubre ship on March 5, 1960.
Korda explained that he was working as reporter in the funeral procession when he made a show off with his old camera Leica with a lens of 90 millimeters, from left to right, to the platform where the rostrum was, eight to ten meters from the camera. Che was situated in the background and he got closer to the rail where Jean Paul Sartre and Simone de Beauvoir were, to contemplate the people gathered there. Just in that moment, knowing that he was just there Korda took one picture and then another one and Che moved back. This only lasted half a minute.

Once the photo was developed in his studio, Korda knew that he had gotten a good picture of Che. The winter afternoon makes it opaque. According to Korda this made that, the image was not so clear; it seemed to be surrounded by a halo that some people think to see it like a cloud in the atmosphere: the solitary head of Che is shaded off in an even and gentle light. There was not any intellectual production. The poor sunlight and the wear of the lens provided the atmosphere of the picture.
Korda took his masterpiece called Guerrillero Heroico to the Revolucion newspaper to publish it but this was not carried out. Seven years later, this photo reached its real dimension. There is no information regarding if Che saw that picture, but probably he never knew about it.
In the summer of 1967, the Italian editor Giangiacomo Feltrinelli came to the Korda studio sent by Haydée Santamaría, president of Casa de las Americas at that time. Feltrinelli was looking for some pictures of Che and Korda gave as gift two copies of the picture took in 1960.
"On October Che died and Feltrinelli printed my picture in a poster of one meter by 70. It is said that he sold one million of copies in six months," says Korda.
The rest of the story is known. According to the words of the photographer, he never collects any money for the picture or his royalties. With more than 400 pictures of Che, he made several exhibitions throughout the world.

Korda died in Paris on May 25, 2001.
---
Related News
---