Relations between Cuba and Colombia Enhanced after Meeting
Submitted by: admin

06 / 23 / 2007
---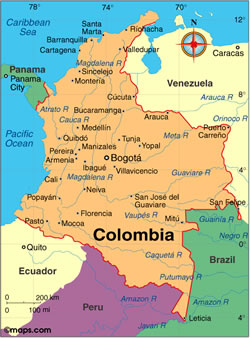 Bogota, Jun 22 (Prensa Latina) Delegations from Colombia and Cuba described bilateral relations in several fields as an example of cooperation between developing nations, it was reported here on Thursday.
The statements were made by experts attending a meeting to assess the implementation of the agreements reached at the Seventh Joint Meeting on Economic, Technical, Scientific, Educational and Cultural Cooperation, held in Havana last year.
In that regard, Luis Enrique Maruri, director of the International Cooperation Department at the Colombian Foreign Ministry, favored optimizing the existing projects, boosting new programs and prioritizing those agreed upon but not implemented yet.
For his part, Roberto Rivas, director of the Latin American and Caribbean Department at the Cuban Ministry for Foreign Investment and Economic Cooperation, pointed out that bilateral cooperation has developed in major fields under no conditions.
He added that relations between Cuba and Colombia are excellent and both governments are willing to continue to develop them.
The meeting was also presided over by Maria Claudia Barias, Cultural Affairs director at the Colombian Foreign Ministry, and Cuban Ambassador in Bogota Jose Antonio Perez Novoa.
Cuba, Colombia Review Bilateral Cooperation
Representatives from the governments of Cuba and Colombia met in this capital Thursday to examine bilateral cooperation programs in several fields.
The two-day meeting is intended to assess implementation of technical-scientific cooperation projects and agreements in education, health, culture, sports, fishing, agriculture, and environment, among others.
It will also follow up joint efforts in the study and exploration of renewable sources of energy in the framework of signed deals.
The Cuban delegation is led by the foreign investment and economic collaboration director for Latin America and the Caribbean, Roberto Rivas, and the Colombian party by Enrique Mauri, the foreign ministry s director for International Cooperation.
---
Related News
---