Hemingways legacy subject of international conference in Cuba
Submitted by: admin

06 / 23 / 2007
---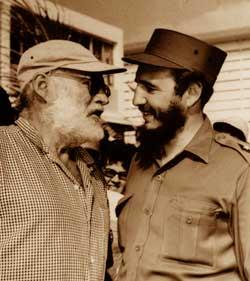 Scholars and researchers on Hemingway from different countries, including the United States, Britain and Argentina are meeting this Friday, June 22 in Cuba to discuss the writer, who established a lasting impact in literature, PL reported.
The annual event is sponsored by the Ernest Hemingway Finca Vigía Museum " the colonial mansion where he lived during his last 22 years " and by the Hemingway Department of the International Journalism Institute, located in Havana.
The U.S. writer first came to Cuba in 1928, and since then has left a permanent mark, captured in one of his most enduring books, The Old Man and the Sea. It was to the island that he dedicated the 1954 Nobel Prize for Literature.
"I love this country and I feel at home," and where a man feels at home, apart from where he was born, is the place he was meant to be, Hemingway said in reference to Cuba. He said he was like a Cuban "mutt."
The first day of the conference, which began on Thursday, was specially marked by the launching of a DVD on the authors presence on the island.
Those attending have a special moment reserved: the projection of the animated film The Old Man and the Sea, by Russian filmmaker Alexander Petrov, a 2000 Oscar winner.
Source Granma International
---
Related News
---