Guantanamo problems. U.S. weighs speedier closing of jail in Cuba
Submitted by: admin

06 / 23 / 2007
---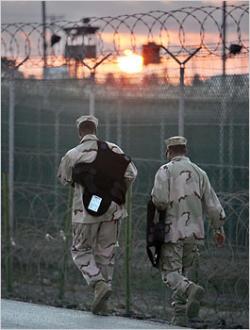 WASHINGTON: President George W. Bush's top advisers are considering a recommendation to speed up the process of closing the American detention unit for suspected terrorists at Guantanamo Bay, Cuba, according to administration officials familiar with the deliberations.
The recommendation comes from several deputies of cabinet members and reflects a growing belief that the continued use of the detention facility is tainting the image of the United States, and hampering America's campaign against terrorism as a result, the officials said.
Bush has said repeatedly that he wants to shut down the detention operation at Guantanamo, which holds about 400 prisoners, but that it is not possible to do so in the near future. But the Cabinet deputies are recommending that the process be accelerated, and at a meeting that had been scheduled for Friday, they were expected to urge a White House announcement on Guantanamo within weeks, according to the officials wrestling with the issue.
The meeting was canceled after it was reported on by The Associated Press on Thursday, according to officials who knew about the session. Secretary of State Condoleezza Rice, Defense Secretary Robert Gates, National Security Adviser Stephen J. Hadley and their top deputies were among those scheduled to attend.
[On Friday, The Associated Press reported that the United States was helping to build a prison in Afghanistan to take some prisoners currently held at Guantanamo Bay. But the White House said Friday that it was not meant as an alternative to the detainee facility in Cuba, The AP added.]
---
Related News
---