Fossil, unique of its kind in the world survives in Cuba
Submitted by: admin

06 / 21 / 2007
---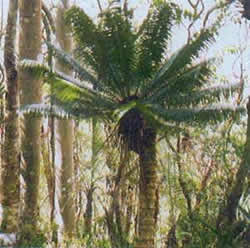 The palm tree is one of the most typical species of the Cuban flora that is very well known for its most extended variety like the royal palm that is considered the national tree. However, within this family there are other members, which are very singular like the Corcho palm (cork palm).
The "microcycas calocoma" its scientific name, survives in the western Cuban province of Pinar del Rio where we can find thousand specimens. Specialists consider it as a living fossil taking into account that its origins comes from the Jurassic period.

Its habitat is very-well known due to the natural values of the Viñales Valley. Among its strange hills of limestone, this specie grows. In addition, they can be seemed at the Pizarra heights, one of the first mountains formations of the island.

Its popular name is due to its spongy trunk. This palm reaches an average height of 5 meters and a diameter up to 60 centimeters. Its leafs are called pencas and they form a green copious crown. They grow from the stem to all directions reaching a meter long. According to specialists, the specimens of the male sex achieve greatest size.

The excessive cutting of this palm at the beginning of last century made it endangered specie.
---
Related News
---