Television brought a commercial dispute to Cuba
Submitted by: admin

06 / 04 / 2007
---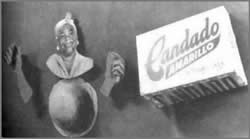 After being one of the promoters in the world, just in the middle of a period of commercial growth of the Cuban radio, television came to Cuba as a colophon of the competition between the two wealthiest Cuban businesspersons at that time representing two transnational companies: Gaspar Pumarejo representing Dumont and Goar Mestre, RCA Victor.
Mestre was building a luxurious building for years on the corner of 23 and M streets in Vedado neighborhood, planned to be complex of radio, cinema, television and shops to be called Radio Centro inspired by the Radio City in New York. On the other hand, Pumarejo improvised television studios in her own house located on the corner of Mazon and San Miguel streets.
Finally, the first Cuban television signal was transmitted from this place on October 24, 1950, on channel 4 that was one of the headquarters in America. Such an event took place thanks to the Union Radio Television, property of Gaspar Pumarejo.
The opening of the Cuban television had a live speech by President Carlos Prío from the Presidential Palace, as it happened with the radio what was considered the first remote transmission. After this, a jingle by the great Cuban musician Ñico Saquito was transmitted promoting the Competidora Gaditana cigarette box. That night a great party was celebrated and from the gardens of the house with the presence of outstanding figures like the Mexican artist Pedro Almendáriz and the Cuban Carmen Montejo and Raquel Revuelta in addition to the owner Gaspar Pumarejo was already famous as a radio announcer.
On December 18 of that same year, Goar Mestre became his dreams true beginning the transmissions of channel 6 with a dramatized program written by Marcos Behmaras and played by artist Alejandro Lugo.
As relevant note, it is important to say that the equipment used was dismantled of a studio in United States then it was considered of second hand. The Cuban inventiveness and the avant-garde thirst would make to establish guidelines in the history of television like the fact of being one of the first to transmit color television signal.
---
Related News
---