The first commemorative stone in Cuba dates from 1557
Submitted by: admin

06 / 03 / 2007
---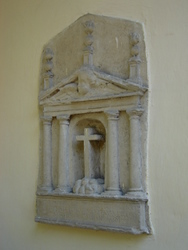 The tombstone erected to Maria Cepero who died due to a harquebus shot is considered the first commemorative stone in Cuba.
In 1557, just in the place where the Palace of the General Captains that was built in the 18th Century was located the first church built in San Cristobal. It has two naves, a sacristy and a cemetery. The walls of the church were made of earth and the arches and columns, stone. It was a place to worship San Cristobal, patron saint of the city. The church was called Parroquial Mayor.
Mrs. Maria Cepero belonging to one of the wealthiest families of the city of Havana lived across the street, on the corner of Obispo and Oficios streets where we can find today La Mina restaurant. The lady was at the Parroquia Mayor church attending a religious party organized by herself when she was hurt because of a harquebus shot of those who were used to solemnize the celebration. The lady could not survive. A stone plaque was built in her honor with a Latin text that says Mrs. Maria Cepero died here due to a shot by chance. Year 1557. Lords Prayer. Hail Mary. The stone plaque is a tally in a niche way with a cross in high relief and the Latin inscription is on the lower part in the way of a pedestal form.
When the Parroquial Mayor church was demolished, the tally was put in a wall of the Palace of General Captains, then, in the yard of what we know today as the City museum. Later, with the restoration works in Obispo street, it was put in a wall of a house that belonged to her family, today La Mina Café and restaurant. Thus, this fist tragic event took place in San Cristobal de la Habana that will be remembered forever in a stone plaque.
---
Related News
---