10th inning hit by Dayan Viciedo gives Villa Clara a 3-2 series lead
Submitted by: admin

04 / 14 / 2007
---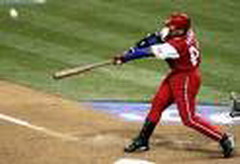 The two teams battled throughout the game to obtain a coveted third victory. Villa Clara had runners on base in each of the first six innings; scoring once in the third, another in the fourth (both off starter Alberto Bicet) and took a 3-1 lead with a run in the fifth off Santiago reliever Albert Carrion.
th career hit.
The tension was apparent among the players of both teams, explaining what could have been a costly error by Santiago de Cuba second baseman Hector Olivera in the ninth, and an easy fly by Reutilio Hurtado that Villa Clara centerfielder Leonis Martin let drop in the tenth. Santiago had a chance to go ahead in the eighth and again in the tenth, but on both occasions Olivera took a called third strike on what was clearly not his day.
The winning run against left-handed reliever Albert Carrion, who pitched an excellent 6.1 innings, came on singles by Ariel Borrero and Lester Benavides, a walk to Yeniet Perez and the final hit by Dayan Viciedo, who went 3-for-4 with two RBIs. First baseman Ariel Borrero drove in Villa Claras other two runs on three hits and also scored one.
Villa Claras Yolexis Ulacia pitched the 100-throw limit in 6.1 innings of relief, giving up seven hits and two walks and battling out of several difficult situations. However, baseball is not always fair and the win went to Yoandry Ruiz, who got the final out "a pop up to second by Alexei Bell" using only one pitch.
Friday is a travel day and game six takes place Saturday afternoon in Santiago de Cuba. If the home team ties the series the tie-breaker will be played on Sunday.
Industriales, the Western Division champs, continue to rest up and wait to see who will be their rivals in the finals, after sweeping Havana 4-0.
Source: By Sigfredo Barrios, Granma
---
Related News
---