Popular music festival Barbarito Diez
Submitted by: admin

11 / 11 / 2006
---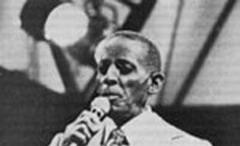 Danzón and the golden voice of Barbarito Diez (1909-1995) are especially high in the history of the countrys contemporaneous music. The province Las Tunas honors this talented singer at the 4th edition of the Popular Music Festival.
Marking his birthday (Barbarito was born on Dec, 4 1909), the gathering runs from Nov 30 will take place simultaneously in Las Tunas and Manatí, where he attended elementary school.
Dedicated to notable violinist Pedro Hernández Ávila, fraternal friend of the singer of Lágrimas Negras and Juramento, the event aims at placing Barbarito at his deserved place in Cubas cultural legacy, the events artistic director said.
Collateral activities to develop in the hostess city are; danzon competition (children and adults) and open scenario fete as traditionally done in recognition to a hit singer and landmark to all similar orchestras that came after his.
Likewise the regular panel discussion Vivir en la memoria held to tackle issues of interest for participants will welcome researches, final papers and lectures dealing with the Prince of Danzón.
Although he never took any musical course nor played any musical instrument, Manatí's distinguished child the one gifted with a stunning voice and excellent intonation soon conquered the hearts of many in and outside the island. Despite its over 100 years of existence, the impact of danzon on modern music is still a fact.
Speaking about the need of dusting and airing the musical legacy of the Cuban culture, local TV director recalled Barbarito Diez is a continental phenomenon that garnered the favor of the audiences in Panama, Mexico and the Dominican Republic apart from Cuba and that they estimate the gathering became international from next year on.
Source: CubaSi
---
Related News
---