Cuban school kids honor National Hero Jose Marti
Submitted by: admin

01 / 27 / 2007
---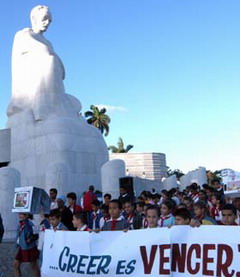 By Danay Galletti Hernandez and Mario Cremata Ferran
Havanas "Pioneers" "school children from grades one to six" marched in 28 groups representing the progress Cuba has made in fields that include science, education and health, as they paid homage to 154th the anniversary of the birth of the islands national hero.
During Fridays parade which assembled around the base of the Jose Marti memorial in Revolution Square, the youngsters participated in the celebration that extended across the entire country.
The orchestra of the general staff accompanied the advance of the continuators of the ideas of Marti up to the pedestal of his monument, also in the square, where they laid white roses and a wreath in the design of the Cuban flag.
The president of the Jose Marti Pioneers Organization, Mirian Yanet Martin, said in an interview with JR that the homage is part of a month-long program in each school in the country to study and analyze the life and work of the hero.
In the more than 10,000 Pioneer clubs, talks, exhibitions and contests have been carried out as part this program, Martin pointed out.
The organizations head emphasized the need for young people to understand the writings of Marti, beginning with his classic childrens book La Edad de Oro (The Age of Gold). She encourages students in secondary school to discover the young Marti by reading Presidio Político en Cuba (Political Prison in Cuba), in which he speaks about the horrors that he lived through while just an adolescent.
Tonight a huge party is planned foreseen for children at Revolution Square, as well as a midnight ceremony to usher in his birthday at the nearby house in which Marti was born. Sunday kids across the country will roll up their sleeves and participate in community work.
Armando Hart Davalos, the director of the Office of the Marti Program and president of the Jose Marti Cultural Society; Luis Ignacio Gomez, minister of Education; among other leaders, accompanied the pioneers in the tribute.
Source: Juventud Rebelde
---
Related News
---