Brazilian Poet Thiago de Mello in Cuba to participate in activities for the 80th birthday of President Fidel Castro
Submitted by: admin

11 / 28 / 2006
---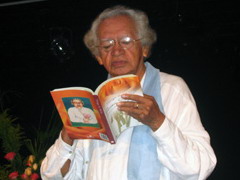 Brazilian Poet Thiago de Mello arrived in Havana on Sunday to participate in this week's activities for the 80th birthday of President Fidel Castro.
"Thanks to the Cuban Revolution, we all have the security that the construction of a more human society is possible," said the Brazilian intellectual upon his arrival to the José Martí International Airport.
The Brazilian writer is one of the over 1,000 renowned international figures that will participate in the colloquims on the life and work of the leader of the Cuban Revolution, sponsored by the Guayasamin Foundation.
De Mello, who characterized Fidel Castro as a "great human being" and "an enlightened example," said that "Cuba is like a magical word; despite continuous persecution from the imperial North, Cuba travels the world with firmness" and "is an example for the youth of Our America."
Also in Cuba for the activities are Ecuadorian writer Jorque Enrique Adoum, who arrived in Havana on Saturday. The poet and narrator, who was the personal secretary of Chilean poet Pablo Neruda, said that Fidel "has carried out a unique socio-economic and political project in Latin America."
Other renowned figures expected to arrive in the coming days are Adolfo Pérez Esquivel, Danielle Mitterand, Tomás Borge, Hebe De Bonafini, Ignacio Ramonet and Federico Mayor, among others.
The colloquim "Memory and Future: Cuba and Fidel" is part of the activities sponsored by the Guayasamin Foundation from November 28th to December 1st.
The festivities for the 80th birthday of Fidel Castro on August 13th was postponed due to the Cuban leader's emergency surgery. He then temporarily delegated his responsibilities to First Vice President Raúl Castro and other Cuban leaders.
Among some of the activities this week are an exhibition "An Embrace from Guayasamin to Fidel," and a concert called "Todas las Voces Todas," with the participation of Cuban singer/songwriter, Silvio Rodríguez, Omara Portuondo, Eliades Ochoa, Illapu, Cabas, Miriam Makeba and Pueblo Nuevo.
Source: Cubarte
---
Related News
---