Jose Mujica said that Raul Castro has made the decision to leave the presidency of Cuba
Submitted by: Juana

02 / 09 / 2016
---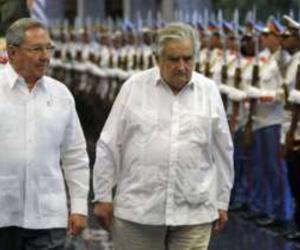 ---
According to El Nuevo Herald, former Uruguayan President Jose Mujica, who visited Havana in late January, recently stated that Raul Castro has decided to leave the government because of his advanced age.
"Raul has made the decision and he is 85 years old. Why? Because one cannot fight biology and it must be respected because it is decisive," Mujica said in an interview with the daily La República. Former Uruguayan president who ruled the country between 2010 and 2015 was also asked about the possibility that he again be a candidate in Uruguay, and he discarded it for health reasons and age.
Regarding Fidel Castro, José Mujica said he saw him "better than two years ago," but explained that, however, has difficulty walking. On his meeting with Fidel Castro, he explained:
"He has to use a walking stick, but with a very clear head, perfectly updated. I was surprised to see him read without glasses, he makes intelligent questions permanently, as always."
Jose Mujica was visiting Havana for several days in the month of January, as he was the main guest of the literary prize Casa de Las Americas. He also met with the leaders of the FARC, which are on the island negotiating peace with the Colombian government.
source: www.cibercuba.com
---
Related News
---