President of the Cuban National Assembly receives President of the Senate of Equatorial Guinea
Submitted by: Juana

09 / 08 / 2015
---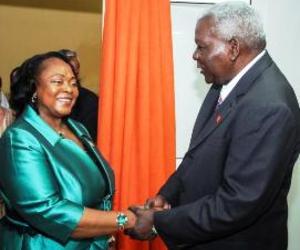 ---
Esteban Lazo, President of the National Assembly of the People's Power, received Teresa Efua Asangono, President of the Senate of Equatorial Guinea, on Monday.
Lazo described as historic the links existing between the two states and asserted that the visit will contribute to strengthen inter-parliamentary relations them even more.
In addition, he recalled that at present Cuba has more than 400 voluntary workers in Guinea, mainly in the fields of health, education and infrastructure, and showed his willingness to expand commercial and social bonds.
Lazo thanked the parliamentarian for her country's support in the struggle against the U.S. embargo and in favor of the return of the Five Heroes and explained that in spite of the reestablishment of bilateral relations, the United States still illegally occupies a portion of Guantanamo, that the Cuban Adjustment Act persists, as well as restrictions to travel to Cuba, and that recently several countries were affected by the imposition of financial measures for doing business with the Caribbean island.
Asangono said that cooperation between Guinea and Cuba goes back a long way and among objectives of the visit is to increase the bonds of fraternity and cooperation, because Equatorial Guinea is a Third World country in urgent need of technology for development and Cuba can continue sharing it with Guinea.
source: www.cibercuba.com


---
Related News
---